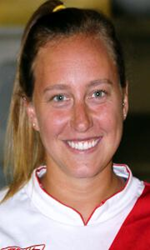 "After living the female EduKick Madrid experience myself, I highly recommend it to any female footballer who is willing to jump out of her comfort zone and into a new cultural immersion of football and Spanish." ~American Footballer, Ashley Lehr
(PRWEB) March 26, 2014
Ashley Lehr, who grew up playing youth soccer in Erie, Pennsylvania, is a long way from home. Lehr, a high level female soccer player from Pennsylvania and recent college graduate is working as Assistant Director of International Students at EduKick Madrid Football & Education Academy and playing women's "futbol" competitively with A.D. Colmenar Viejo just outside the Spanish Capital.
EduKick Madrid is a football & education academy residential boarding school for young competitive footballers from 13 to 24 years of age that want to live, study and play soccer abroad in Spain.
Growing up in the USA, Lehr, the oldest of five children in her family, always had both football (soccer) and languages are her primary passions in life. She attended Allegheny College in Meadville, Pennsylvania, where she studied a double major in Managerial Economics and Spanish and played four years of collegiate soccer.
Lehr had a very successful soccer career at Allegheny. In 2012, she was awarded First-Team All-Conference and named team captain and in 2011 she received All-Conference Honorable Mention as North Coast Athletic Conference Co-Champions, and in 2010 her squad made the first round of the National Collegiate Athletic Association (NCAA) tournament.
Lehr joined EduKick Madrid in October of 2013 with several duties required of her, including promoting the new EduKick Madrid Women's Football Academy Program. The EduKick Madrid Female Football Academy, with Lehr currently in the role of assistant director of students, is an education and football development year-long course designed for competitive female soccer players between 13 and 24 years of age that want to continue their academic studies in Madrid while also attending a professional soccer development academy.
As part of her position as Assistant Director, Lehr helps the participants with their academics, including organization, goal setting, and general understanding of the material. She also acts as a full-time adult monitor for the participants, residing among the players in a private dorm room in the same hallway. Aside from these main responsibilities, she also translates player reviews and other football materials from Spanish to English, organizes player birthday celebrations, updates EduKick Madrid social media sites for public relations, and attends to the overall well-being of the participants. In additional to all these duties, Lehr also assist the EduKick Madrid Head Futbol Coach in the daily training sessions as required.
Lehr commented enthusiastically about her experience at EduKick Madrid, "Working with EduKick Madrid this year has been an inspiring challenge, which has already taught me many new skills. Since the student-athletes who attend EduKick Madrid come from very different cultural backgrounds, it is an adjustment for all of them to be surrounded by new people and to be in a new environment. Fortunately, the main reason we are all here is for football, and football is powerful in itself; it unites us and reminds us that we are all here for the same reasons -- to play, to improve, and to enjoy the game. Football is our universal language and through a caring staff and a common love for football, we are all continuously growing as students, players, and people."
As EduKick Madrid expands their football and education courses to women, more female participants will be taking advantage of this opportunity previously only offered to male soccer players around the world. All of the participating female will have the opportunity to play with a local Spanish female team, Lehr had the opportunity to play with the Colmenar Viejo Femenino women's team.
Lehr continues, "My experience has been absolutely fantastic, as it has allowed me to be immersed in Spanish culture, learn and practice the Spanish language, and continue playing football in a competitive women's league. Since I have actually lived the experience of a future EduKick Madrid woman participant, I highly recommend it to any female who is devoted to football."
Lehr's educational aspirations and professional goals are well-defined..."In the short run, I hope to study a Masters of Business Administration in Sports Management in Madrid and continue to better the educational and football experience with our EduKick participants. In the long run, my goal is to be a Director of an athletic program, possibly at a university or for a professional team in the United States."
To learn more about EduKick International Football Academies (EIFA) and EduKick Madrid Female Football Academy, contact EIFA directly at the contact information provided in this release.