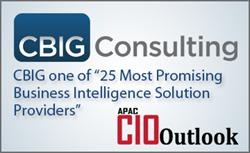 CBIG Lean™ Analytics offers a more innovative, streamlined approach to data management and analysis, which is easier to deploy and maintain in the longer term.
Chicago, IL (PRWEB) March 23, 2016
Global BI solutions provider CBIG Consulting continues to merit recognition within the Big Data/Business Intelligence analytics industry, garnering a new profile in APAC CIO Outlook's special edition, "25 Most Promising Business Intelligence Solution Providers—2016," published in March. APAC CIO Outlook's piece focuses on advancements CBIG Consulting has achieved, particularly in the Asia-Pacific Rim region, helmed by Asia-Pac General Manager Cameron Price.
When notified his organization was included in the publication's top 25 BI Solution Providers, Price said he and his team were very gratified to have achieved CIO Outlook editors' respect for CBIG's work in the southern hemisphere. "We know we're on the right track down here, but to be recognized among leading BI solution providers by today's industry experts is very rewarding indeed."
Industry analysts at CIO Outlook praised CBIG's ongoing commitment to research and innovation toward building data-centric business processes that make better sense—financially and operationally—for businesses that depend on today's Big Data and cloud-based solutions to drive their organizations forward into the future. The profile also noted CBIG's full life-cycle approach—unique among most consulting professionals, who typically focus on only one or two areas of expertise—that guides clients through the initial discovery stage to planning to deployment to ongoing managed services options, depending on client needs. CBIG teams are also led throughout a given project by one CBIG Principal to ensure continuity and quality of service.
With regard to services, CIO Outlook analysts emphasized CBIG Asia-Pac's proprietary CBIG Lean™ Analytics service, saying, "CBIG Lean™ Analytics offers a more innovative, streamlined approach to data management and analysis, which is easier to deploy and maintain in the longer term." CIO Outlook's profile also revealed that Price's teams are busy incorporating CBIG's advancements in more strategic BI initiatives, which include but aren't limited to marketing analytics, competitive intelligence, and data monetization solutions.
While these services are already well-established in the U.S. and Europe, they are now beginning to gain real traction in the Asia-Pac region. When asked about the shift, Price said these strategic solutions respond to evolving client demand for multiple streams within business units that can be deployed singly or together, depending on individual client circumstances and markets. He added, "For clients that want to stay competitive, our strategic services offer a more targeted and, ultimately, more beneficial approach. These programs give organizations the means to better identify their specific challenges and then develop the specific opportunities that can propel their business forward."
About CBIG Consulting
CBIG Consulting is an international team of experts in Business Intelligence, Big Data Analytics, Data Warehousing, and Cloud-based Analytics platforms. Named a top BI and Big Data consulting firm by independent research organizations and publications, CBIG's management consultants, business analysts, data architects and engineers are seasoned professionals dedicated to the analytics space. CBIG works with global enterprises, mid-size businesses, and non-profit organizations in solving mission-critical reporting and analytical needs. CBIG is headquartered in the Chicago area and has additional offices in San Francisco, Boston, Denver, Austin, Raleigh, and Seattle in the U.S.; Sydney, Melbourne, Auckland and Singapore serving the Asia-Pacific region; and London serving the EMEA region. For more information, please visit http://www.cbigconsulting.com.