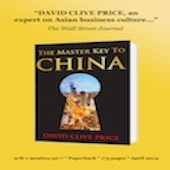 This is an exciting time for The Master Key to Asia.
London, UK (PRWEB UK) 31 July 2014
David Clive Price, operating under the brand name 'Master Key to Asia', will open a new operational centre in Hong Kong from 21 September 2014 onwards.
Located in the Tung Chung district of the city, and conveniently close to Hong Kong International Airport as well as a broad range of rapid transport links into both central Hong Kong and Guandong Province, the new office will be a logistical centre for David's numerous forays into the Asia Pacific region.
'The Master Key to Asia, a trademark of David Price & Associates Ltd, has long been active as a strategic communications consultancy in Hong Kong with branches in other Asian cities,' says David.
'But with the increasing number of resources we are offering, such as the business guides The Master Key to Asia and The Master Key to China, a lengthening client list in both Western countries and Asia/China, and a number of new digital and audio products coming on line, we have decided to rationalize all our activities into one headquarters,' explains David.
Reflecting the nature of his East-West interests, David will spend more than half the year in Hong Kong, getting himself up to speed on the latest business and cultural developments, while also retaining contact with his London client base and attending book launches and giving Master Classes and Conference Keynotes in the UK, US, core Europe and Australasia.
'This is an exciting time for The Master Key to Asia,' concludes David. 'We have built a robust platform of cultural intelligence and we intend to build on this to offer Master Key books and courses to Chinese business people and other Asians going into new environments in the West, just as we have for Western business people going the other way.'
As if to celebrate this cultural highway, David has recently published a new novel, 'Chinese Walls', set in the business world of London and Hong Kong, and a travel book, 'Phoenix Rising: A Journey Through South Korea'. 'Glimpses of Snow Country: Travels in Japan' will follow in the autumn.
All David's Asia books are available as paperback and Kindle on Amazon.
About David Clive Price
With 27 years' experience of Asia business, David Clive Price helps Western companies, SMEs and entrepreneurs to launch and expand in Asian markets. His International Business Passport consulting packages and bestselling Master Key Series of cultural primers offer proven strategies for building profitable partnerships and gaining competitive advantage. David has also published a series of travel, fiction and cultural books about Asia, including the recently published novel 'Chinese Walls' and the travel book, 'Phoenix Rising: A Journey Through South Korea'.