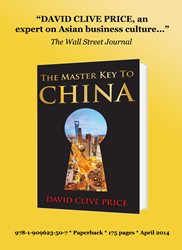 There are three basics for building a business in China - courage, empathy and resilience.
London, UK (PRWEB UK) 25 March 2014
China's dynamic and highly differentiated markets are generating rich opportunities but also complex challenges for Western companies and entrepreneurs considering or already launching themselves in the world's second largest economy.
Over 20 years of travelling and working from Beijing to Xiamen, from Shanghai to Chongqing, Harbin to Kunming, David Clive Price has collaborated with companies and business people at every level in China.
In a series of upcoming talks and workshops in Scotland and England to launch his new book The Master Key to Asia, he reveals the winning strategies to leverage local knowledge to create strong relationships based on trust and credibility in China's diverse markets.
He identifies the business etiquette, cultures and business customs of China's regions and cities, provides vital networking and negotiation tools, and shows how to target global brands and products for China's cities and provinces through cultural and competitive intelligence.
"There are three essential values for building a successful business in China - courage, empathy and resilience," says Price. 'In these upcoming events, held in conjunction with the Asia Scotland Institute, I will show how these values form the core of a successful business strategy for China and the rest of Asia."
David Clive Price will be speaking on Wednesday 26 March at Edinburgh Chamber of Commerce, on 27 March at Edinburgh Business School, and on 2 April at Oxford International Business Club on "The Master Key to China: Unlocking the Potential of China".
About David Clive Price
With 25 years' experience of Asia business, David Clive Price helps Western companies, SMEs and entrepreneurs to launch and expand in Asian markets. His International Business Passport consulting packages and bestselling Master Key Series offer proven strategies for building profitable partnerships and gaining competitive advantage.
Media Contact Info
David Clive Price
david(at)davidcliveprice(dot)com
Location: London, UK