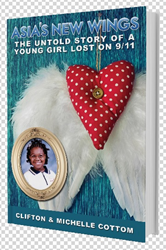 All Asia knew was school, family and God. Her faith was at the core of who she was.
(PRWEB) September 11, 2014
Most people think of the morning of September 11, 2001, with sadness and horror, but for Clifton and Dr. Michelle Cottom the loss ran much deeper. Their young daughter, Asia, was aboard Flight 77 with her teacher and a select few fellow classmates, on her way to California for a special school trip which she won due to her infallible academic insight. Asia's plane crashed into the Pentagon, resulting in no survivors on board. Now, her parents and brother are releasing a book on the 13th anniversary of her death to honor her memory and tell the story of a bright and vibrant young lady, as well as to honor her memory by promoting the Asia SiVon Cottom Memorial Scholarship, a fund established in Asia's memory that sends deserving students to college.
After Asia's death, her parents struggled to understand and to deal with their own grief. They were supported by friends and family, but what was truly amazing to them was the outpouring of love and support from strangers across the country and around the world. Money poured in and the Cottoms had no idea what to do with it all. They decided that honoring Asia's memory could best be done by establishing a scholarship in her memory. The Asia SiVon Cottom Memorial Scholarship has been helping educationally eager young people obtain a college education for several years now, with the first recipient recently completing a Juris Doctor degree and becoming a lawyer.
Now, the Cottoms are sharing Asia's story with the world with the publication of 'Asia's New Wings: The Untold Story of a Young Girl Lost on 9/11'. The book will be released by Next Century Publishing on September 11, 2014.
In light of the continuing horror and strife that still permeates the world, the Cottoms hope that Asia's story of love and hope will resonate in the hearts and minds of those who read their book and will reach those who need a message of victory in the face of defeat. For more information and to purchase a copy of 'Asia's New Wings' visit http://www.amazon.com/gp/product/1629038202.
About the Cottoms:
Clifton and Michelle Cottom lost their daughter, Asia, at 11 years old during the 9/11/2001 terror attacks. They are now releasing a book that describes their daughter's life and highlights the legacy she leaves with the scholarship fund named for her.