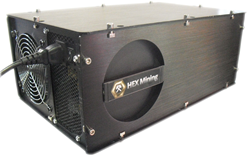 At Hex you only need 20% down to secure your order.
(PRWEB) March 22, 2014
Today, Hex Mining has available for shipping 150 units of 230 GH mining machines. Furthermore, we are taking pre-order for our 1.6 TH miners with only 20% down payment with deliver scheduled for April. Hex continues to offer the best payment terms in the ASIC Bitcoin Mining hardware (http://hexmining.com/) industry. Ron Legarski, the founder and CEO stated, "avoid scams and manufacturers mining with your machines! At Hex you only need 20% down to secure your order. Hex is motivated to expedite and fill your order with our contract manufacturer in China. Our payment terms insure that nobody gets paid until your machine is within 5 days of shipment.
HEX, offers a real time managed Asic Bitcoin mining hardware (http://hexmining.com/) service that helps you set up and configure your security and Bitcoin servers, and allow you choose from a number of hardware, equipment insurance, and miner controllers. At HEX, we can help you get started with Bitcoin mining by picking up your hardware from our manufacturing facilities, and setting up your servers at our specialized center, so you can get started with your mining business through our turn-key solution right away.
About HEX Mining
HEX Mining (http://www.hexmining.com/) is quickly becoming known as the industry leader by their transparent nature. HEX Mining is a manufacturer and supplier of Bitcoin mining hardware and services. They have offices in the United States and China along with an organization of the top producers of ASIC Chips and Bitcoin Miner related hardware.
Today HEX Mining has both Bitcoin hardware and managed Bitcoin hardware solutions. Products come in both GigaHash and TeraHash processing speeds. As the industry gets more competitive they will continue to secure the right relationships to keep in line with evolution of the cryptocurrency industry. Currently the demand is extremely intense and the pressure is on the manufacturers and distributors to deliver the goods. And that's exactly what HEX has set out to accomplish.
The HEX Miner 230 GigaHash ASIC Miners are currently in stock and their TeraHash products and services are currently in a pre-order stage and they plan on delivering in April 2014. HEX Mining accepts payments in the form of checks, wire transfers, and of course Bitcoins.
HEX Mining is also proud to be an Escrow.com seller, which arms consumers with confidence during their transactions.
HEX Mining
webmaster(at)hexmining(dot)com
Phone: (877) 804-7671
Website: http://www.hexmining.com