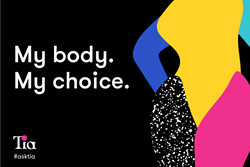 "At a time when women's health faces so many threats, we believe that user-friendly, low-friction solutions like Tia can bridge access gaps in health information and help women navigate an increasingly complex world of healthcare with confidence." — Carolyn Witte, Co-Founder & CEO
San Francisco, CA (PRWEB) September 25, 2017
Today, Tia announced $2.5 million in seed financing from Combine, Homebrew, and Compound to further its mission of reimagining women's healthcare through the lens of the millennial female. Leading with a big, bold, sex-positive brand that celebrates women's right to own their body and own their choices, Tia has set out to build a "one-stop-shop" for women's health — unifying the burgeoning, but fragmented market.
Founded by Carolyn Witte and Felicity Yost, Tia launched their first product in June — a free, personal, private women's health advisor app — an answer to the one-size-fits-all WebMD answers common when Google-ing your health. Made with doctors, but designed to feel like chatting with a friend, Tia is a trusted confidante for data-driven birth control recommendations, cycle tracking, and all those sexual health questions that are difficult to say out loud.
Since launching the Tia app in June, Tia has had over 100,000 conversations with women, answering questions from "how can I get an IUD covered by my insurance?" to "what does an abnormal pap smear mean?" to "how does stress affect my sex drive?". Through a private 1:1 conversation, Tia's equal parts sass and science persona shines when making women feel heard, less judged, and less alone.
"All too often, women are making healthcare decisions — about birth control, sex, pregnancy, and beyond — from a place of fear, anxiety, and shame," said Co-Founder & CEO, Carolyn Witte. "At a time when women's health faces so many threats, we believe that user-friendly, low-friction solutions like Tia can bridge access gaps in health information and help women navigate an increasingly complex world of healthcare with confidence."
"Through the thousands of conversations Tia has each day, we've learned that compassion and making women feel heard is as, if not more important than the information itself," added Co-Founder & Head of Product, Felicity Yost. "Believing that women fundamentally want a relationship — not a disparate set of providers, trackers, and devices that each address a narrow slice of your health — we've designed the entire product around a private 1:1 conversation that's all about cultivating trust."
A message from CEO Carolyn Witte can be found here - https://medium.com/@ask_tia/backed-by-2-5-million-tia-gets-one-step-closer-to-redesigning-womens-health-15665b66b344
ABOUT TIA - Tia is a next-gen women's health platform for millennial women by millennial women. Founded in 2016 by Co-Founder & CEO, Carolyn Witte, formerly at Google Creative Lab, and Co-Founder & Head of Product, Felicity Yost, a former product manager at Bridgewater and Owler, Tia is based in San Francisco, CA. Tia's first product — a personal, private, women's health advisor — is available for iPhone in the U.S. App Store and at http://www.asktia.com