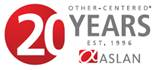 Of all that we have accomplished over the past 20 years, we are perhaps the most proud of the changes that we have been able to help people make in their personal lives.
Atlanta, Ga (PRWEB) July 12, 2016
ASLAN Training & Development is proudly celebrating 20 years of bringing truth to the marketplace. What began as a modest startup, has emerged into an award winning sales training company.
ASLAN was established in 1996, in the basement of co-founder Tab Norris's family home. The story of ASLAN's rise to success is a narrative more often associated with the rise of an up and coming garage band. What began as the passion project of two sales professionals, on a shoestring budget, has grown into a celebrated sales training organization with a footprint in more than 25 countries. The ASLAN team is humbled by their achievements over the past 20 years and grateful for the relationships and partnerships that have made it possible. For the past two decades, ASLAN Training has established a reputation as strategic partner, helping sales organizations bridge the gap in their sales force execution. Amongst the company's many accolades, they were named to Selling Power's Top 20 Sales Training Companies in 2013, 2014, 2015 and 2016 as well as Training Industry's Training Companies Watch List in 2015 and 2016.
In addition to consulting and serving top sales organizations and leaders, serving the community has always been a major focus for the ASLAN team. In fact, ASLAN has donated ten percent of company profits since its infancy. Supporting a wide variety of charities benefiting those in need, ASLAN Training has touched the lives of thousands on both a personal and professional level.
When establishing the company, co-founder and CEO Tom Stanfill was inspired by the messaging of CS Lewis's The Lion the Witch and the Wardrobe. In particular by Aslan, the main character in the series. As the most powerful character in the story, Aslan chooses to use his strength to serve others. In short, Aslan's character represented exactly what Stanfill and Norris set out to do; to teach people to serve their customers more, to care more, to learn more, and ultimately to become more successful and more fulfilled.
It is from this very message that ASLAN's Other-Centered® sales philosophy was born. The core component of the ASLAN training solution is that in order to influence and increase "receptivity," we have to become Other-Centered, as opposed to self-serving. In other words, for the past 20 years, ASLAN Training has been empowering organizations to be authentic and transparent throughout the sales cycle. Together ASLAN and their clients have discovered that we are all ultimately more successful and fulfilled when we serve others. In helping their clients understand how to cultivate business relationships based upon uncompromising trust, ASLAN has trained many of the world's most successful and respected sales organizations and professionals.
"Of all that we have accomplished over the past 20 years, we are perhaps the most proud of the changes that we have been able to help people make in their personal lives," said Tom Stanfill. "We often receive feedback that a client has learned to Drop the Rope® or become Other-Centered and it has influenced their marriage or helped them become a better parent. When we hear a leader say they are not just working to sell more, but they are working to change the way they relate to people, that's what it's all about."
"Since we started ASLAN we have stayed true to our belief that being Other-Centered is the key to success, in doing so we have remained focused on bringing relational and vocational truth to the marketplace," said Tab Norris, VP of Training and Co-Founder of ASLAN Training & Development. "We've never lost sight of our original mission. While it hasn't always been easy, it is something we are very proud of today."
"Today at ASLAN we are better than ever before. But more importantly, we remain focused on our core values; on training, developing and impacting others to be Other-Centered," added Marc Lamson, President of ASLAN Training & Development.
The entire ASLAN family is excited to celebrate this momentous occasion, to reflect on lessons learned over the past two decades and the trust their clients have placed in them. As they take time to look to the past, the ASLAN leadership team is also preparing for the future. Together they continue to explore new opportunities to better serve their employees and clients in their individual Other-Centered journeys. Stay tuned for more announcements from the ASLAN team as they work to connect with and learn from their global client base.
About ASLAN Training & Development
ASLAN Training and Development is a global sales training and consulting firm that offers customized, inside sales training, field sales training, and sales leadership development. Since 1996 ASLAN has helped internationally recognized brands improve the performance of their sales reps and managers. ASLAN recognizes that all sales roles are not the same and has developed a total suite of solutions that includes strategies for hiring, transitioning managers into coaches and leaders and improving overall performance for each of the 11 unique sales roles. To learn more about how we can help your organization bridge the gap in sales force execution, visit us at http://www.ASLANTraining.com or call us at (866) 362-6496.