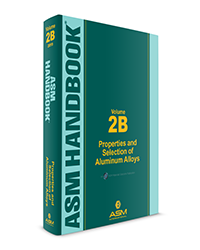 MATERIALS PARK, Ohio (PRWEB) June 07, 2019
ASM International publishes digital-first articles from Properties and Selection of Aluminum Alloys. Select handbook articles from ASM Handbook, Volume 2B: Properties and Selection of Aluminum Alloys have been digitally published in ASM Handbooks Online™ in the ASM Digital Library, in advance of the full volume release. The full volume, edited by Kevin Anderson, John Weritz, and J. Gilbert Kaufman, is scheduled to be released digitally and in print in July 2019.
The following peer reviewed articles are now available in ASM Handbooks Online™:

ASM Handbook, Volume 2B: Properties and Selection of Aluminum Alloys will focus on the properties, processing and fabrication effects, and design aspects of aluminum alloy applications. Volume 2B will include information on the trends and direction of alloy development and applications and provide updated and expanded datasheets for over 120 specific grades or variations of commercial aluminum alloys.
About the ASM Digital Library
ASM International serves the materials research, reference, and education needs of engineers and scientists over the course of their careers through its comprehensive and authoritative information resources. The ASM Digital Library provides discoverable, convenient, and interactive access to articles, books, databases, and industry news on current engineering practices and scientific research in the development, manufacturing, testing, modeling, and application of engineered materials.
ASM Handbooks Online™ is the first resource that is being presented in the new ASM Digital Library platform. Over time the other materials information resources published by ASM International will be integrated into the platform. In the meantime, convenient links to these resources are provided on the ASM Digital Library home page and on the persistent site footer.
Experts on materials engineering topics are encouraged to volunteer to update or contribute new content to the ASM Digital Library. Please contact matinfo(at)asminternational.org to volunteer. Other comments and questions can be sent to the same email address.
For information on subscription access to the ASM Digital Library, contact the Online Database Manager at 440.338.5151 or via email at onlinedbsales(at)asminternational.org.