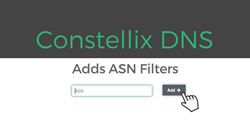 Clients are praising ASN filters for deterring unwanted traffic and improving end-user connectivity.
Reston, VA (PRWEB) June 28, 2016
Constellix, the revolutionary new suite of traffic management services, has announced the addition of ASN filtering to their GeoDNS platform. ASN, also known as Autonomous System Numbers, are used to specify different networks. Constellix DNS now allows clients to use ASN's when using GeoFilters to control how end-user's queries are being routed to reach a client's domain.
This technology allows clients to pinpoint the networks they want to use to route end-user queries. These networks can be ISP's (Internet Service Providers) or CDN's (Content Delivery Networks), which occasionally can affect end-user routing negatively, requiring a redirect. "This new method of filtering is already proving to be a critical asset within the Constellix suite. Clients are praising ASN filters for deterring unwanted traffic and improving end-user connectivity," says President of Constellix Steven Job.
The Constellix DNS platform is integrated with Constellix Sonar, a monitoring service that uses Real-User Monitoring (RUM) to evaluate service providers like CDN's and ISP's. Clients can use RUM to identify service provider performance degradation and then use this information to reroute client's who use these providers using ASN GeoFilters. Constellix is a first of its kind suite that offers unprecedented synergy between monitoring and query management services. This revolutionary functionality has asserted Constellix as the industry leader in ITOS (Internet Traffic Optimization Services).
Constellix offers a variety of GeoIP services that allow clients to decide how their end-users will access their site based on querying location. Clients can make custom DNS configurations and filter rules by region, city, or by geographical coordinates. GeoFilters allow admins to be even more granular in deciding which clients will access their website. You can also use GeoFilters to sift out traffic based on location, IP address type (IPv4 or IPv6), ASN, or EDNS client subnet. GeoFilters are great for filtering out malicious traffic sources, and serve as a first line of defense as a DNS-level firewall to combat DDoS attacks.
About Constellix
Constellix is a subsidiary of Tiggee LLC, the creators of DNS Made Easy, and the industry leader in providing IP Anycast enterprise DNS services. Constellix is an Internet Traffic Optimization Services (ITOS) company, and trailblazer in next-generation traffic management solutions. The Constellix GeoDNS platform offers the most powerful and precise DNS query management, engineered for the cloud. The platform is fully integrated with Constellix Sonar, which offers a range of advanced monitoring features and intelligent analytics tools.