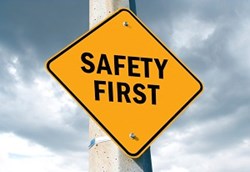 The company and its owner had a legal and moral duty to look after the safety of Mr Qabil, but sadly their failings led to him losing his life.
Bolton, UK (PRWEB UK) 18 December 2013
Preston Crown Court heard on the 10th December, that Amin Qabil, aged 21, died in August 2010, while using a skid steer loader to move rubbish. The body of the Mr Qabil, who was originally from Afghanistan, was discovered after midnight by a neighbour. (1) (2)
According to the press release, Mr Qabil had not received any formal training, and the vehicle he was operating was found to be unsafe. It is believed that, the restraint bar had been disabled, which allowed the controls to be operated when no one was in the cab. Moreover, the minimum engine speed had been allegedly increased. (1)
The court heard that, the vehicle was bought at an auction, but the firm had failed to ensure all the safety features were in place when it was operated on the site. (1)
Following an investigation by the HSE, it has been concluded, that the most likely explanation for Amin Qabil's death is that he caught a lever as he climbed out of the cab. Consequently, he was crushed against the vehicle, when the bucket on the front was raised. (1)
Commenting on the news, Adriano D'Ambrosio, Executive at Asons Solicitors, said that:
"It was a terrible incident, with dramatic consequences. According to the HSE, it is alleged that, there were several failings at the site, which should have been addressed. Such negligence caused the unacceptable death of a young worker. "
"The firm should have ensured that the second-hand skid steer loader was safe to use, before any working task was carried out.
"Here at Asons, we strongly believe that no one should die because of negligence from an employer. Those who have suffered under similar working conditions should not hesitate to make a health and safety claim."
Speaking after the hearing, HSE Inspector Matt Greenly said:
"Amin Qabil's life was brought to an end after he suffered horrific injuries caused by a vehicle that should never have been in use.
"The company and its owner had a legal and moral duty to look after the safety of Mr Qabil, but sadly their failings led to him losing his life." (1)
Asons Solicitors suggest that if someone would like to learn more about the consequences of construction accidents, or if they would like to better understand the Personal Injury Claim process, that such information is available at http://www.asons.co.uk, or via an expert helpline on 01204 521 133.
(1) Health and Safety Executive, 10/12/2013 press.hse.gov.uk/2013/blackburn-skip-firm-sentenced-over-young-workers-death/
(2) Preston Crown Court, 10/12/2013 - Case Number T20130949

About Asons Solicitors:
Asons Solicitors is a Bolton-based law practice that specialises in personal injury and industrial disease claims. Founded by brothers Imran Akram and Kamran Akram, Asons Solicitors has developed to become a young and dynamic law firm that delivers practical solutions to clients in times of difficulty. Their continued focus on their staff has seen them awarded with the Investors in People "Gold Award"; which is reflected in the professional and personable approach they take in working with clients. They strive to grow and to develop, and their supportiveness and attention to detail ensures that their clients use them time and again.
For further information contact:
Email: info(at)asons(dot)co(dot)uk
Website: http://www.asons.co.uk