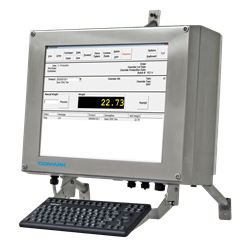 'With hundreds of successful installations demonstrating proven reliability, Aspen Systems and Comark continue to partner together to provide a premier information system for food companies throughout North America,' commented Steve Schott, Comark CEO.
(PRWEB) May 30, 2014
Comark, a leading manufacturer of industrial computer hardware along with Aspen Systems, a food processing MRP software company, have teamed up to provide a rugged, NEMA 4X, turnkey solution to a major United States meat processor.
Aspen's Canopy Software combined with Comark's Thin Client Enclosure provides a ruggedized and reliable inventory solution that is easy to install and implement. Canopy ties the customer's production floor scale and label system into one central database. The Comark industrial thin client reads the weight from a scale and captures the data sending bar-coded labels to an automatic label applicator. All data resides on the server thereby replacing individual stations allowing for less maintenance and easy replacement of a unit.
Canopy allows data to be automatically captured in real-time with Comark stations receiving bar-coded data from a fixed mount scanner. The Comark stations allow for a scanner and a relay switch to control multiple production lines increasing productivity.
Comark's robust 19" resistive touchscreen allows the operator to easily navigate through Canopy's Data Collection menus. The stainless steel design allows for a full 360° sanitizing washdown and can withstand the harshest of environments.
About Aspen Systems, Inc.
Aspen Systems develops and markets innovative computer-based solutions for the Food Industry including Processors, Packers, Distributors and Wholesalers of food products. Unlike other companies who try to offer system solutions to many industries, Aspen markets system solutions exclusively to the Food Industry. Aspen is a proven leader in Information Technology for the Food Industry with over 250 successful installations throughout the United States and Canada and customer support offices on the East Coast and on the West Coast. Aspen provides a true turnkey solution.
About Comark
Comark, a leading manufacturer of industrial computers, NEMA 4X enclosures, LCD systems, flat panel displays, thin client solutions, and high speed distributed I/O platforms for over 35 years. As an ISO 9001:2008 Certified Company, Comark LLC is a global provider to Fortune 1000 companies in the industrial automation, military, building automation and self-service automation markets.