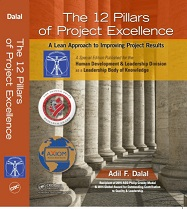 The 12 Pillars is a must read for anyone who aspires to improve as a leader. ~ Dr. Brooks Carder, Chair, BoK, ASQ HD&L Division
Austin, TX (PRWEB) July 10, 2015
ASQ Human Development and Leadership Division (HD&L) announced today that it will offer a series of 15-week on-line Pinnacle Leadership Excellence™ (PLE™) Certificate and Mentoring Program starting on August 19, 2015. The PLE™ program, which will include a series of both on-line and in-person courses, is based on "The 12 Pillars of Project Excellence", a triple-award winning book, by author Adil Dalal, which has been adopted as the foundation to HD&L Division's Leadership Body of Knowledge. The book, which recently won the ASQ Crosby Medal, is also the winner of the Shingo research & Publication award and the Axiom best business book medal, provides a unique approach to achieving culture transformation breakthroughs through leadership and operational excellence. The instructor of the course will be Adil F. Dalal, who is the past-Chair of the HD&L division and the recipient of a Global Award for Outstanding contribution to Quality & Leadership.
PLE™ program covers the practical aspects of management and leadership and takes the participants from the level of a manager to a master leader or a sensei leader™. The on-line course includes a 15-week immersive program where leaders will perform a series of self-assessments to assess the existing skills, participate in on-line class discussions to learn new techniques, and apply the learnings through execution of a leadership project. At the conclusion of the course, the continued development of the leaders will be supported by a mentorship program. Participants will earn 2.0 CEUs upon completion of this on-line program.
This course is developed for executives and other professionals serious about taking their leadership capabilities to an entirely new level of excellence. It will include cutting-edge tools and techniques that can help revolutionize and transform the fundamental approach to leadership and significantly enhance the success rate of any leader and lead to a culture of operational excellence. Only 12 participants will be allowed per session and will be selected based on a review of an application form, which can be found at http://asqhdandl.org/uploads/3/3/3/8/3338526/application_for_ple_program.pdf. For more information about this elite leadership development opportunity, please visit http://asqhdandl.org/body-of-knowledge.html or sign-up below to attend one of the 4 free introductory webinars scheduled as follows:
July 22 (6 pm CT): https://attendee.gototraining.com/r/9061129568220274945
July 23 (9 am CT): https://attendee.gototraining.com/r/3610869121032330241
August 5 (6 pm CT): https://attendee.gototraining.com/r/5025763564607986177
August 6 (9 am CT): https://attendee.gototraining.com/r/6408829345582780417
The Human Development & Leadership Division of ASQ is dedicated to being the community of choice for everyone who seeks to make human development and effective leadership a priority for organizations and individuals on a global basis.
Adil Dalal is the CEO and Founder of Pinnacle Process Solutions International ®, LLC. He is also an author, entrepreneur, keynote speaker and radio show host. In addition to 'The 12 Pillars of Project Excellence', he has also authored 'A Legacy Driven Life' and co-authored the 'Lean Handbook', published by ASQ and 'Change Your World So You Can Change the World' published by the Public Speakers Association. For more information visit http://www.pinnacleprocess.com.