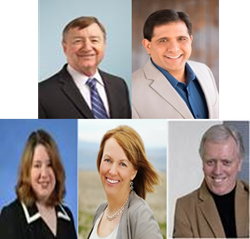 Quality is not act. It is a habit. ~Aristotle
Austin, TX (PRWEB) September 09, 2014
The first ASQ TCC conference is being established to present the growth of quality through collaboration, innovation, and measured results. It is designed to provide the quality community with the opportunity to gather and provide an understanding of and access to quality tools and techniques both locally and globally. The pre-conference tutorials will be presented by experienced industry experts. The panel discussions will be focused on topics critical to the growth of 21st century quality leaders. The engaging sessions will be sponsored by 12 divisions/groups of ASQ namely, Audit, Automotive, Aviation, Space and Defense, Customer Supplier, Design & Construction, Energy & Environmental, Health Care, Human Development & Leadership, Innovation Interest Group, Quality Management, Software and Statistics.
The conference will be inaugurated by ASQ CEO, William Troy. The keynote presentations will be by some of the leading quality professionals who will engage, motivate and help you get powerful insights into staying ahead of the existing quality practices and tools. The following keynote speakers will be at the conference to share their knowledge regarding critical global business trends, quality directions, innovations, quality management systems and thought provoking ideas that are shaping the future.
Frank Culbertson will open the session on Friday, Oct 31. Frank is the Executive Vice President and General Manager of the Advanced Programs Group for Orbital Sciences Corporation, Dulles, Virginia. In this capacity, Mr. Culbertson's responsibilities include the execution and performance of all Orbital programs related to human space flight including the Commercial Orbital Transportation System as well as multiple National Security Space related projects. Prior to this Frank had an eighteen-year career as a NASA Astronaut. He has flown three space missions and logged over 144 days in space as a shuttle commander, pilot, and station crewmember.
Adil Dalal will be the closing keynote speaker who will open minds to new frontiers of neuroscience on Friday, Oct 31. Adil is the CEO of Pinnacle Process Solutions, Intl®, LLC, past-Chair of Human Development & Leadership division, an award-winning author, a distinguished global keynote speaker and a lean and project sensei. Adil was recently awarded the 2014 Global Award for Outstanding Contribution to Quality & Leadership, by the World Quality Congress. His book, The 12 Pillars of Project Excellence™ is the winner of the prestigious 2014 Shingo Research & Professional Publication Award; and also the 2013 Axiom Best Business Book medal.
Martha Gardner will speak the afternoon of Thursday, October 30. Martha has been the Global Quality Leader for General Electric Global Research (GEGR) since 2004. She also leads the GE-wide Design for Six Sigma (DFSS), Design for Reliability (DFR), and Design to Value (DTV) Councils. She is currently focused on integrating new Conceptual Design methods and approaches using TRIZ into daily work at GEGR and improving analytics capabilities across GE Engineering through the GE Analytics Engineer program.
Pam Henderson, Ph.D. will open the Session on Oct 30. She is CEO of NewEdge, Inc., a growth, strategy and design firm that advises companies across every industry from Fortune 500 to startups and non-profits. Pam speaks internationally and has published widely on market insight, business and innovation strategy, and design. She is here tonight to talk about Opportunity Thinking and how this approach is helping companies and organizations achieve sustainable quality.
Peter Merrill will speak the afternoon of Friday, October 31. Peter is the President of Quest Management Systems, an innovation consultancy based in Burlington, Ontario. Merrill is the author of several ASQ Quality Press books, including Do It Right the Second Time, second edition (2009), and Innovation Generation (2008). He is a member of ASQ and chair of the ASQ Innovation Interest Group.
To be a part of the first ASQ TCC register today at https://prdweb.asq.org/ecommerce/tccconference.
ASQ is a global community of people dedicated to quality who share the ideas and tools that make our world work better. With individual and organizational members around the world, ASQ has the reputation and reach to bring together the diverse quality champions who are transforming the world's corporations, organizations and communities to meet tomorrow's critical challenges.