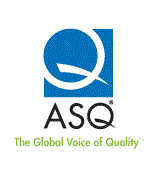 ASQ's mission is to increase the use and impact of quality in response to the diverse needs of the world.
Austin, TX (PRWEB) October 07, 2014
The first ASQ TCC conference (Oct 30-31) will recognize the growth of quality through collaboration, innovation, and measured results. The conference, which will include per-conference tutorials, sessions, keynote addresses and panel discussions will be inaugurated by ASQ CEO, William Troy. One of the speakers who will attend the conference will be Frank Shankwitz, the founder of Make-A-Wish Foundation, one of the most prominent charities helping terminally ill children realize their fantasies.
ASQ's mission is to increase the use and impact of quality in response to the diverse needs of the world. Today, as social responsibility is increasingly becoming a key expectation of consumers around the globe, ASQ has been a leader and a steward of social responsibility and has championed the integration of social responsibility into quality through the establishment of the ISO 26000 standard and the creation of a Social Responsibility Organization (SRO) within ASQ.
The TCC conference will include topics related to its long term commitment to SR. One of the areas of focus in the conference will be the panel discussion titled 'Evolving Quality Professional from Good to Great!" which will focus on providing veterans opportunities within the Quality world. Our veterans having served the country loyally are going through some difficult times with PTS, TBI and other issues related to adjusting to the civilian life. There are many individuals and organizations who would like to support the veterans by hiring them or providing employment related skills training. This panel discussion will focus on how we, at ASQ, can create an environment which is open and inviting to our veterans and repay the debt the nation owes to them for their service through training and/or employment opportunities. The eminent panel will include William Troy, Frank Shankwitz, Russ Westcott, Lawrence Mossman, and Matt Khodadad. The panel discussion will be moderated by Adil Dalal, past-Chair, Human Development & Leadership division.
Another panel session titled, "Social Responsibility Opportunities for Quality Professionals" will feature ASQ member leaders like Greg Allen, Dorthy Bowers, Laura Kinney, Peter Merrill, who are creating free tools that help quality professionals navigate changes to the profession and capitalize on emerging opportunities.
Some quality focused panels like "Using Data to Drive Business Improvement", "ISO 9001:2015 What the Changes Mean to You" and "Transforming ASQ into the Global Voice of Quality" will include quality professionals and ASQ member leaders like JD Marhevko, Jerry Rice, Jim King, JR McGee, Denis Devos, Denise Robitaille, Ken Sadler, Dale Gordon, Martha Gardner, Bill Denney, ASQ Global and Steve Wilson.
The per-conference tutorials will be presented by experienced industry experts like Russ Westcott, Dave Little, Kevin Posey, Mary Chris Easterly, Denis Devos, Mike Micklewright, Denise Robitaille and Doug Wood.
The conference will also include enlightening keynote presentations by some world-renowned quality leaders, astronauts, award-winning authors and quality innovators like Pam Henderson, Martha Gardner, Frank Culbertson, Peter Merrill, and Adil Dalal.
There will also be sessions and case studies presented by outstanding speakers selected by 12 divisions which will provide the audience a wide-selection of topics which will relate to several flavors of quality, lean, six sigma, innovation, human development and leadership,
To be a part of the first ASQ TCC register today at https://prdweb.asq.org/ecommerce/tccconference
ASQ is a global community of people dedicated to quality who share the ideas and tools that make our world work better. With individual and organizational members around the world, ASQ has the reputation and reach to bring together the diverse quality champions who are transforming the world's corporations, organizations and communities to meet tomorrow's critical challenges.