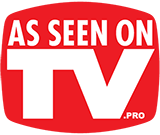 "Social media is becoming extremely mainstream in everybody's lives," says Doug Scott, CEO and Executive Producer
St. Petersburg, Florida (PRWEB) January 10, 2017
Kevin Harrington (one of the original Sharks from megahit reality series Shark Tank) and the Producers of AsSeenOnTV.pro are pleased to announce a new, hot Facebook Live product show, details to follow regarding hosts and celebrity guest appearances.
Always visionaries and constantly wanting to stay ahead of the curve, AsSeenOnTV.pro and Kevin Harrington will be launching a new and unique Facebook Live show. Starting in March 2017, from 12:30 p.m. - 1:00 p.m. EST, it will live stream monthly featuring hot products relevant to the season. Simultaneously, it will incentivize Facebook followers to purchase these unforgettable products immediately, because of the bonuses that will be offered.
"Social media is becoming extremely mainstream in everybody's lives," says Doug Scott, CEO and Executive Producer, at AsSeenOnTV.pro. "We're embarking on the opportunity to combine social media with the effectiveness of DRTV. As the article on Inc.com stated, we're positioning ourselves as visionaries in this up and coming platform, along with the likes of Martha Stewart and Jon Steinberg. Our Facebook Live show is going to be a shoppers dream for men and women of all ages."
To find out more about how to launch a successful Facebook Live show, go to http://www.inc.com/marla-tabaka/6-excellent-reasons-to-launch-your-own-facebook-live-show-in-2017.html.
For innovators that would like to have a product evaluated by AsSeenOnTV.pro, submit a product inquiry on http://www.AsSeenOnTV.pro.
About AsSeenOnTV.pro
Headquartered at 6250 Coral Ridge Drive Studio 200 in Coral Springs, FL 33076, AsSeenOnTV.pro is a full-service production, branding, and marketing company that specializes in direct response television, short- and long-form commercials, and brand building. Based out of a 25,000+ sq ft, state-of-the-art studio, the company's creative team handles every aspect of production from script to screen to airing. For nearly two decades, AsSeenOnTV.pro's veteran staff of writers, producers, videographers, and editors has amassed more than 50 Telly Awards, thousands of prestigious clients, and over $20 million in television placements.
About Kevin Harrington
As the inventor of the infomercial, founder of As Seen on TV, and one of the original Sharks on Shark Tank, Kevin Harrington has worked with some of the world's biggest celebrities and launched some of the best-selling DRTV campaigns in history. Since producing his first 30-minute infomercial in 1984, Harrington has been involved in over 500 product launches that have resulted in over $5 billion in sales. Now, in his latest venture with AsSeenOnTV.pro, Harrington is on the hunt for the best new products and ideas, bringing them to homes everywhere through personalized DRTV campaigns featuring the Shark.
About Inc.com
In 1996, Inc.com was launched. It is replete with small business ideas, information, inspiration, and practical advice from those who have done it before. Also publishes Inc magazine, which for over 30 years has been the premier print publication for entrepreneurs and business owners.