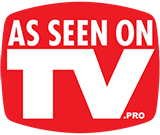 "We are proud of the work we do to provide an incubator for fresh ideas and emerging innovators," says AsSeenOnTV.pro Executive Producer, Douglas Scott
St. Petersburg, Florida (PRWEB) March 01, 2017
The Producers of AsSeenOnTV.pro, with Kevin Harrington, one of the original Sharks from the megahit reality series Shark Tank, are excited to announce that one of its innovative discoveries -- My Hair Tie Bracelets® by Maria Shireen® -- has been fast-tracked into the stores of retail giant Toys''R''Us. AsSeenOnTV.pro is launching a Direct Response Television campaign, concurrent with the introduction of My Hair Tie Bracelets® into Toys''R''Us stores in February 2017.
Attending the AsSeenOnTV.pro Innovators' Think Tank, hosted by Kevin Harrington, product creators Shireen and Arni Thor met David Dial, independent marketing and sales consultant and member of AsSeenOnTV.pro's Advisory Board, who was crucial in making the key connection with Toys''R''Us.
"We are proud of the work we do to provide an incubator for fresh ideas and emerging innovators," says AsSeenOnTV.pro Executive Producer, Douglas Scott, who in conjunction with Kevin Harrington has developed the company's DRTV concept and format. "While we are no strangers to facilitating success tales, the Maria Shireen story provides an outstanding example of what is possible when the 'right stuff' meets the 'ideal moment'."
"When you come across a concept which is perfectly aligned with its window of opportunity, that's the right time to act," says David Dial, owner of ProMarkCo and member of the Advisory Board of AsSeenOnTV.pro. "I've helped young companies achieve billion dollar status, so I can recognize the potential behind a start-up, simply from its product's intrinsic value and the mindset of its management."
My Hair Tie Bracelets® by Maria Shireen® are now available on the Toys''R''Us website and in its stores; and the Maria Shireen® DRTV television campaign is about to debut on major television networks across the nation.
About AsSeenOnTV.pro
With studios at 6250 Coral Ridge Drive, Suite 200, Coral Springs, Florida, 33076, AsSeenOnTV.pro is a full-service production, branding, and marketing company that specializes in Direct Response Television, short- and long-form commercials and brand building. Based in a 25,000+ square foot, state-of-the-art studio, the company's creative team handles every aspect of production from script to screen to airing. For nearly two decades, AsSeenOnTV.pro's veteran staff of writers, producers, videographers and editors has amassed more than 50 Telly Awards, thousands of prestigious clients and over $20 million in television placements. Innovators who would like to have a product evaluated for this opportunity are invited to submit a product inquiry at http://www.AsSeenOnTV.pro.
About Kevin Harrington
As the inventor of the infomercial, founder of As Seen on TV, and one of the original Sharks on Shark Tank, Kevin Harrington has worked with some of the world's most recognizable celebrities and launched some of the most effective DRTV campaigns in history. Since producing his first 30-minute infomercial in 1984, Harrington has been involved in over 500 product launches that have resulted in over $5 Billion in sales. Now, in his latest venture aligned with AsSeenOnTV.pro, Harrington is on the hunt for the best new products and ideas, bringing them into homes everywhere through personalized DRTV campaigns that are headlined by the Shark, himself.
About My Hair Tie Bracelets®:
My Hair Tie Bracelets® bring function and fashion together to solve an age-old problem of what to do with hair tie elastics when not holding up a ponytail. Now, those hair tie elastics can be set into a fun and affordable cuff bracelet. From the makers of the original hair tie bracelet, Maria Shireen®, My Hair Tie Bracelets® have emerged as the must-have, hip and trending accessory for young girls to tween and teen fashionistas to women looking for a practical and fashionable solution.