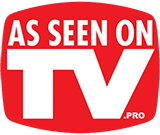 "As an animal lover, I'm thrilled at the chance to help AsSeenOnTV.pro to find and feature the newest, most innovative products and services that help in caring for our beloved pets," says Harrison Forbes.
Coral Springs, FL (PRWEB) July 21, 2017
The team at AsSeenOnTV.pro, along with Kevin Harrington, one of the original Sharks from the hit reality series Shark Tank, are pleased to announce that the company's Celebrity Pet Expert and Advisory Board Member, Harrison Forbes, will again MC the New Product Showcase Awards at the Super Zoo in Las Vegas for the fourth consecutive year.
From July 24-27, 2017 the prestigious Mandalay Bay in Las Vegas, Nevada, becomes ground zero for all things pets and pet-related. Who better to host the New Product Showcase Awards than Celebrity Pet Expert, broadcaster and Pet Specialist for AsSeenOnTV.pro, Harrison Forbes? A major force in the pet industry for nearly three decades, Harrison Forbes has been a dog trainer and police/military animal trainer. Host of the radio show "Pet Talk" for 18 years, Harrison has made multiple appearances on TV shows like The View, Regis and Kelly, The Today Show, as well as on CNN and FOX News. Forbes recently became a member of the Advisory Board of AsSeenOnTV.pro, helping to sniff out new and exciting products for the benefit of pet owners and their beloved companions.
At this year's Super Zoo New Product Showcase Awards, several alumni of successful AsSeenOnTV.pro television commercial campaigns are set to be highlighted, including:
Meowijuana ▬ the creative and popular purr-veyor of a premium line of all-natural, organic catnip products. The company's 100% organic products, grown in Southern California and Washington State, are non-addictive, naturally grown and pet-safe. Check out all their products at Super Zoo, booth #3529.
Shed Defender ▬ a patent-pending onesie that contains pet hair and dander, can replace the medical cone following surgery or treatment, and helps dogs with skin conditions, allergies or anxiety issues. The Shed Defender contains dog hair within the garment while allowing the dog to shed naturally, making it the safe and easy solution for reducing pet hair in the home, car or during extended travel. See it live at Super Zoo, booth #2628.
Harrison will also be representing Walkabout Harnesses by showcasing their product, distributing flyers and handing out samples. Recommended by veterinarians as the most effective walking aid on the market, the innovative Walkabout Harness allows pet parents to safely and comfortably lift and hold their pet's hindquarters for walks, getting in and out of the car, bathing and other challenges of everyday life.
"As an animal lover, I'm thrilled at the chance to help AsSeenOnTV.pro to find and feature the newest, most innovative products and services that help in caring for our beloved pets," says Harrison Forbes. "Working with the professional team at AsSeenOnTV.pro broadens my scope and capability to scan the marketplace for game-changing ideas that will help us provide the finest care for our best friends."
"I think it says a lot for the dedication of Harrison Forbes and, indeed, our whole AsSeenOnTV.pro staff that so many of our previous campaign participants have made it to the stage at Super Zoo this year," says Paul Douglas Scott, Executive Producer at AsSeenOnTV.pro. "This demonstrates the effectiveness of a well-managed, well-produced Direct Response TV campaign when it begins with a solid product or service that has potential to improve lives ▬ both human and animal."
About AsSeenOnTV.pro
Headquartered in South Florida, AsSeenOnTV.pro is a full-service production, branding, and marketing company that specializes in direct response television, short- and long-form commercials, and brand-building. Based out of a 25,000+ square foot, state-of-the-art studio, the company's creative team handles every aspect of production from script to screen to airing. For nearly two decades, AsSeenOnTV.pro's veteran staff of writers, producers, videographers, and editors has amassed more than 50 Telly Awards, thousands of prestigious clients, and over $20 million in television placements.
About Harrison Forbes:
Harrison Forbes 25+ year career as a dog trainer and animal behaviorist has propelled him into the spotlight as a highly sought-after pet expert for national news stories, best-selling author, and popular radio/TV host. Harrison's "Pet Talk" radio show won an Excellence in Media Award and went on to national syndication in Los Angeles, New York and 80 other markets. Having been involved in the training and importing of over 700 police service dogs, Harrison has also been called upon to train dogs for Hollywood productions, including Francis Ford Coppola's feature film "The Rainmaker". As a public speaker and product spokesperson, Harrison has become the "go-to" guy for national pet stories, and now enjoys even more effective reach as part of AsSeenOnTV.pro.
About Kevin Harrington
As the inventor of the infomercial, founder of As Seen on TV, and one of the original Sharks on Shark Tank, Kevin Harrington has worked with some of the world's biggest celebrities and launched some of the best-selling DRTV campaigns in history. Since producing his first 30-minute infomercial in 1984, Harrington has been involved in over 500 product launches that have resulted in over $5 billion in sales. Now, in his latest venture with AsSeenOnTV.pro, Harrington is on the hunt for the best new products and ideas, bringing them to homes everywhere through personalized DRTV campaigns featuring the Shark.
For more information, please visit http://www.AsSeenOnTV.pro.