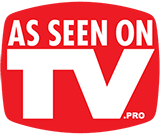 The Travel Sleeper is a fully adjustable, yet compact travel pillow that gives travelers comfortable sleep in their own space without having to lean, recline, or reposition into an uncomfortable position.
St. Petersburg, FL (PRWEB) October 10, 2016
AsSeenOnTV.pro, its Product Managers and Kevin Harrington, one of the original Sharks from hit reality series Shark Tank, are pleased to announce the launch of a new DRTV campaign with the Travel Sleeper.
Who hasn't had the experience of desperately trying to catch some Z's while travelling; the awkwardness of trying to get comfortable; all the uncomfortable positions; the incredibly kinked necks, the terribly sore backs? Whether on a plane, train, bus, or car, with the Travel Sleeper you can catch a nap just about anywhere!
The Travel Sleeper is a comfortable face pillow with a convenient stand that allows travelers to sleep while sitting up. The Travel Sleeper is fully adjustable, yet compact enough that users can comfortably sleep in their own space without having to lean, recline, or otherwise inconvenience neighboring passengers. Lightweight and easy to carry, the Travel Sleeper assembles in seconds and folds up to fit in carry-on luggage or under the seat. In addition to sound, relaxing sleep, the Travel Sleeper also offers support for reading or working on a laptop, without any kinked necks or sore backs.
As part of its DRTV campaign with AsSeenOnTV.pro, the Travel Sleeper will be appearing in 30 and 60 second spots set to air nationwide and feature the original Shark himself, Kevin Harrington. AsSeenOnTV.pro is comprised of an award-winning team of producers, writers, videographers, and editors as well as industry veterans dedicated to finding the latest, most innovative products and ideas, and putting them on the DRTV map. For more information on the Travel Sleeper, please visit http://www.TravelSleeper.com.
About Kevin Harrington
As the inventor of the infomercial, founder of As Seen on TV, and one of the original Sharks on Shark Tank, Kevin Harrington has worked with some of the world's biggest celebrities and launched some of the best-selling DRTV campaigns in history. Since producing his first 30-minute infomercial in 1984, Harrington has been involved in over 500 product launches that have resulted in over $5 billion in sales. Now, in his latest venture with AsSeenOnTV.pro, Harrington is on the hunt for the best new products and ideas, bringing them to homes everywhere through personalized DRTV campaigns featuring the Shark.
About AsSeenOnTV.pro
Headquartered in South Florida, AsSeenOnTV.pro is a full-service production, branding, and marketing company that specializes in direct response television, short- and long-form commercials, and brand building. Based out of a 25,000+ sq ft, state-of-the-art studio, the company's creative team handles every aspect of production from script to screen to airing. For nearly two decades, AsSeenOnTV.pro's veteran staff of writers, producers, videographers, and editors has amassed more than 50 Telly Awards, thousands of prestigious clients, and over $20 million in television placements.