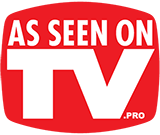 I really enjoy hosting our AsSeenOnTV.pro - Innovators' Think Tank events. It's my opportunity to personally meet with our DRTV campaign participants and educate them on all aspects of DRTV promotion and sales. – Kevin Harrington, Co-Executive Producer
St. Petersburg, FL (PRWEB) September 30, 2016
AsSeenOnTV.pro and Co-Executive Producer Kevin Harrington announce the 6th Quarterly Innovators' Think Tank to be held on Monday, October 3, 2016 at the Fort Lauderdale Marriott Coral Springs Hotel, Golf Club & Convention Center.
Twenty-five companies will be represented at the premier, by invitation only, event which will showcase the hottest products rolling into the marketplace today. Company representatives will have the opportunity to meet and talk to Kevin Harrington, one of the original Sharks from the Emmy Award-winning TV show, Shark Tank.
In addition to Harrington, the Executive Management team of AsSeenOnTV.pro will be in attendance and sharing their expertise - Executive Producer, Doug Scott, Vice President of Business Development, Lisa Vrancken, Senior Vice President of Production, Tiffany Davidson, and Media Specialist, Gary Baris. Also in attendance are the prestigious members of the Advisory Board. The Board members are movers and shakers in retail, live shopping networks, DRTV, digital media, radio, print media, and direct response TV.
"The Innovators' Think Tank events are my opportunity to personally meet with our DRTV campaign participants and educate on the importance of knowing their industry, their business, the customer and the ever changing marketing trends. Guiding innovators and entrepreneurs on how to stay on their game, encouraging perseverance while taking the next steps, and sharing valuable expertise is amazingly gratifying," says Kevin Harrington.
The 6th Quarterly Innovators' Think Tank is a unique forum for innovators and entrepreneurs. It is a proven way to assist in leveraging DRTV campaigns for their products, gain expertise in digital marketing activities, such as how to optimize video marketing to attract customers, and take their breakthrough product to the next level. Attendees will gain keen insight on how to optimize the 15 month DRTV campaign for branding and sales, how to pitch products to the top markets and distribution outlets, and receive advice from Harrington, one of the most successful infomercial celebrities in the world, about product packaging, production, and more.
About AsSeenOnTV.pro
Headquartered in Florida, AsSeenOnTV.pro is a full-service production, branding, and marketing company that specializes in direct response television, short- and long-form commercials, and brand building. Based out of a 25,000+ sq ft, state-of-the-art studio, the company's creative team handles every aspect of production from script to screen to airing. For nearly two decades, its veteran staff of writers, producers, videographers, and editors has amassed more than 50 Telly Awards, thousands of prestigious clients, and over $20 million in television placements.