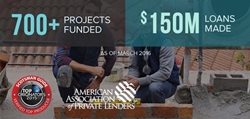 Hoboken, New Jersey (PRWEB) April 26, 2016
Asset Based Lending congratulates partners Daniel Leyden, Paul Ullman, and Kevin Rodman for leading the hard money lending firm to a Scotsman Guide 2015 Top Originator designation. Asset Based Lending was ranked among the top loan originators for both the Top Dollar Volume and Closed Loans categories.
Scotsman Guide, the leading resource for mortgage originators, released its seventh annual Top Originators rankings on April 1. The list, which ranks the nation's top mortgage producers, appears in Scotsman Guide's April 2016 residential edition.
Asset Based Lending was ranked among entries from more than 2,400 mortgage professionals across the country. To be eligible for initial consideration in Scotsman Guide's Top Originators rankings, originators must have had at least $40 million in loan volume or 100 closed home loans for the 2015 calendar year. After receiving submissions, Scotsman Guide required written verification of top entrants' volume data from a certified public accountant, the chief financial officer at the originator's company or a similar source.
The award comes just after a record breaking month for Asset Based Lending, closing 33 loans for $11.75 million and returning $2.83 million in capital. "We endeavor to fund good projects for good people, and we feel honored that our borrowers and investors continue to put their faith in us," says Paul Ullman, ABL Managing Partner.
Asset Based Lending, LLC is a direct hard money lender that specializes in helping real estate investors finance fix and flip projects, new construction, and cash out refinances. ABL's hard money lending programs funds non-owner occupied real estate investments up to $2 million in New Jersey, New York, Connecticut, Pennsylvania, Massachusetts, Maryland, Florida, Virginia, and Washington D.C. Since its inception in 2010, Asset Based Lending has funded over 700 real estate transactions, while lending over $160 million.
Scotsman Guide Media Inc. publishes a residential edition and a commercial edition of Scotsman Guide, in addition to Scotsman Guide News, Loan Post, Scotsman Guide Community and other platforms at ScotsmanGuide.com. Each month, the magazines reach tens of thousands of subscribers nationwide. Scotsman Guide is the leading resource for mortgage originators and connects mortgage originators with wholesale and commercial lenders.
For more information, visit http://www.abl1.net or call (201) 942-9089