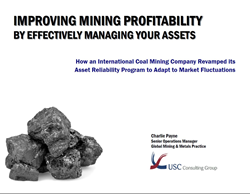 Just 1% improvement in Asset Utilization can have an exponential impact on the bottom line.
Tampa, FL (PRWEB) August 04, 2014
USC Consulting Group (USCCG) has released the latest whitepaper from its Global Mining & Metals practice that explores Asset Reliability and Mine Management Operating Systems, and their impact on Mine profitability. The whitepaper, Improving Mining Profitability by Effectively Managing Your Assets, discusses how improving asset utilization can have an exponential effect on the bottom line, especially given the current fluctuations in worldwide commodity demand.
"Maximizing the utilization of mission-critical heavy assets can be a key driver to improving financial performance," says Charlie Payne, Senior Operations Manager for USCCG and author of the whitepaper. "Just one percent improvement in utilization can have an exponential effect on the bottom line."
To help improve profitability, a robust Asset Reliability Program should include the following items:

Leading and lagging key performance indicators to monitor performance
A proactive maintenance and capacity plan for existing assets
A plan to optimize production through effective use of equipment and personnel
Continuous tracking of operating conditions, requirements, and performance history of key assets
When combined with proper training, coordination, and communication, a significant Return on Investment can be gained from the program.
The whitepaper can be downloaded at MetricsBlog.wordpress.com
About USC Consulting Group, LP:
USC Consulting Group (USCCG) is an operations management consulting firm helping clients improve financial performance with a focus on operational excellence across the supply chain. Founded in 1968, the firm brings experience, enabling technology, and subject matter expertise to implement solutions, not just recommend them. With offices in the United States and Canada, and projects spread across the globe, USCCG has worked in many industries with companies of all sizes, including many in the Fortune 1000. For more information, please follow us on LinkedIn, Twitter or visit http://www.usccg.com.