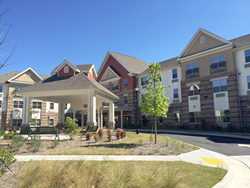 Bradley, Illinois (PRWEB) July 06, 2016
As the country reflects on another Independence Day, veterans are invited to learn more about the housing options available at Oasis at Scholars Landing, a new personal care home that serves older adults in Atlanta.
The community, which is located at 134 John Hope Drive, SW in Atlanta, is designed for seniors who need some help to maintain their independence. Veterans interested in living at Oasis receive preference, and financial resources are available to help them pay for housing expenses.
Oasis at Scholars Landing is a state-of-the-art community with 60 one-bedroom apartments. The personal care home opened last year and provides housing, meals and assistance with daily living activities for seniors who live at the community.
The Veterans Administration offers Aid and Attendance to veterans, spouses and surviving spouses who need help with eating, bathing, dressing, medication assistance and other daily living activities. The benefit can go toward the cost of living in a personal care home, such as Oasis at Scholars Landing.
To learn more about these benefits and the veteran preference at Oasis at Scholars Landing, call 404-330-0400.
Gardant Management Solutions, the management company for Oasis, is one of the largest assisted living providers in the country. The company recently expanded its portfolio, which now includes properties in Georgia, Illinois and Indiana. Integral Group LLC developed and owns Oasis at Scholars Landing and Oasis at 30th, an assisted living community in Indianapolis.
"Our focus," said Rod Burkett, CEO of Gardant Management Solutions, "is to provide residents with the love, compassion and dignity they deserve and the help and assistance they need. Our emphasis is on helping residents at Oasis achieve and maintain as much independence as possible for as long as possible."
For more information about the assisted living, senior living and memory care communities that Gardant operates, visit http://www.gardant.com or call 1-877-882-1495 toll-free.