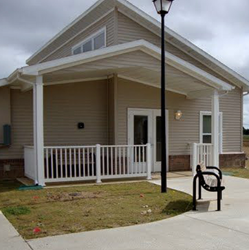 Bradley, Illinois (PRWEB) October 22, 2014
Heritage Woods of Centralia, a BMA affordable assisted living community, is hosting a presentation on the health benefits of pumpkin at 1:30 p.m. on Nov. 25.
The community, which is located in Centralia, Illinois, houses senior living apartments, affordable assisted living apartments, and rental homes for low-income adults 55 and older.
Experts say better immunity, weight loss, sharper vision, youthful skin and lower cancer risk are just a few of the health benefits associated with pumpkins.
The pumpkin presentation will be given by Bonnie Lampke, the community relations therapist for Petersen Health Care.
For more information about this event of Heritage Woods of Centralia, call 618-532-4590.
The community is managed by BMA Management, Ltd., of Bradley, Illinois. BMA is the largest provider of assisted living in Illinois.
"Our senior living apartments are available on a rental basis and combine the comforts of apartment-home living with a variety of features and amenities for the convenience of older adults," says Dennis Krupp, Director of Marketing for Heritage Woods of Centralia.
Studio, one-bedroom and two-bedroom floor plans are available. The main meal each day, most utilities and flat linen laundry services are included in the monthly rental fee.
The community's affordable assisted living apartments are designed for older adults of all incomes, including those on Medicaid, who need some help to maintain their independence.
"These apartments provide a wonderful alternative to a nursing home or to struggling alone at home," says Krupp.
Residential apartment-home living is combined with the availability of personal assistance, help with medications, and a variety of convenience and support services.
Residents live in private apartments that they furnish and decorate to their tastes. Certified nursing assistants are on-duty 24 hours a day, seven days a week. Three meals a day, housekeeping and laundry are among the included services.
"Residents of our community also benefit from all of the opportunities that are available to socialize with friends and neighbors and to participate in activities and special programs," says Krupp.
BMA Management, the company that operates Heritage Woods of Centralia, manages 37 assisted living, senior living and memory care communities that together house nearly 3,700 homes and apartments.
Communities managed by BMA Management include the Cambridge House affordable assisted living communities in the St. Louis Metro East area; the Heritage Woods affordable assisted living communities in Benton, Flora, McLeansboro and Mt. Vernon; and the Prairie Living affordable assisted living community in Carbondale.
For more information about BMA Management; the assisted living, senior living and memory care communities that BMA operates; and the company's management, development and consulting services, visit http://www.bma-mgmt.com or call 1-877-882-1495 toll-free.