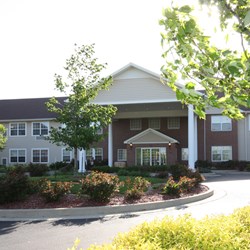 Join us for some fun as we host a tailgating party to prep for the fall football season.
Bradley, Illinois (PRWEB) September 22, 2013
Bowman Estates of Danville, a BMA affordable assisted living community, will host a tailgate party from 2 p.m. to 6 p.m. on Sept. 25.
The community, which is located at 1968 N. Bowman Ave. in Danville, Illinois, serves older adults of all incomes who need some help to maintain their independence.
"Join us for some fun as we host a tailgating party to prep for the fall football season," said Bowman Estates Administrator Terry Labounty.
Football players and cheerleaders from Danville and Schlarman high schools will meet with residents and guests.
Appetizers and cocktails will be served, and a University of Illinois basket will be given away as part of a raffle at the party.
For more information about the tailgate party or Bowman Estates, call 217-431-4200.
Bowman Estates of Danville is the only senior living community in Vermilion County that is certified to operate through the Illinois Supportive Living program. The certification enables the community to serve older adults on Medicaid.
The community is managed by BMA Management, Ltd., the largest provider of assisted living in Illinois.
"We provide older adults with a wonderful alternative to a nursing home or to struggling alone at home," says Labounty. "Residents benefit from living in a residential apartment-home environment and receiving personal assistance and help with medications."
Each of the private studio and one-bedroom apartments at Bowman Estates features a kitchenette, spacious bathroom with shower and grab bars, and emergency alert system.
Certified nursing assistants are on-duty 24 hours a day, seven days a week. Meals, housekeeping and laundry are among the included services.
"Residents also benefit from all of the opportunities that are available to socialize with friends and neighbors and participate in social activities," says Labounty.
Based in Bradley, Illinois, BMA Management operates 38 senior living communities, housing more than 3,800 homes and apartments.
"Our focus is on providing Bowman Estates of Danville residents with the love, compassion and dignity that they deserve in addition to the help and assistance that they need," says Rod Burkett, President and CEO of BMA.
The communities managed by BMA include the Prairie Winds affordable assisted living community in Urbana, Illinois; the Eagle Ridge affordable assisted living community in Decatur, Illinois, and the Heritage Woods affordable assisted living communities in Charleston and Watseka, Illinois.
BMA also manages the Bridle Brook of Mahomet assisted living and memory care community in Champaign County, Illinois.
For more information on BMA Management, Ltd. and the managed senior communities, please visit http://www.bma-mgmt.com.