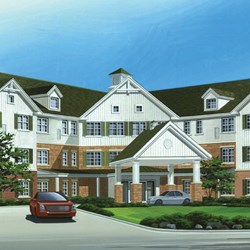 We have a fun-filled Halloween event planned for families, and we hope you'll join us for a great time.
Bradley, IL (PRWEB) October 05, 2013
Deer Path of Huntley, a BMA affordable assisted living community, will host a Trunk or Treat event for area children from 4 p.m. to 6 p.m. on Oct. 30.
The community, which is located at 12500 Regency Parkway in Huntley, Illinois, serves adults with physical disabilities between the ages of 22 and 64.
Area residents will pass out candy from the trunks of their vehicles. Afterward, residents and staff will give children treats in the lobby of the new community.
Light refreshments will be served, and guests are invited to help determine the winners of a pumpkin decorating contest that Deer Path residents will participate in later this month.
"We encourage parents to stop by Deer Path for a safe trick-or-treating alternative for kids," said Gail Williams, Director of Marketing for the community. "We have a fun-filled Halloween event planned for families, and we hope you'll join us for a great time."
For more information about the Halloween event or Deer Path of Huntley, call 847-515-1800.
Deer Path opened in August and combines residential apartment-home living with the availability of personal assistance, help with medications, and a variety of convenience and support services, such as meals, housekeeping and laundry.
Residents will live in private apartments that they will furnish and decorate to their tastes. Each of the apartments will feature a kitchenette, spacious bathroom with shower and grab bars, individually controlled heating and air conditioning, and emergency alert system.
Certified nursing assistants, working under the direction of a licensed nurse, will be on-duty 24 hours a day, seven days a week.
"We are excited to provide a community for adults that gives them an alternative to living in a nursing home with a much older population or struggling alone at home," Dale said. "Our community will meet the unique needs and interests of residents, and we're looking forward to helping them make our community their new home."
Residents also benefit from opportunities to socialize with neighbors and participate in activities and special programs.
The community has an activity room, beauty salon/barber shop, computer lab, convenience store, therapy room, a service dog training area and basketball court.
Deer Path is certified to operate through the Illinois Supportive Living program, which emphasizes personal choice, dignity, privacy and individuality. The community is managed by BMA Management, Ltd., of Bradley, Illinois.
BMA Management is the largest provider of assisted living in Illinois, managing 38 assisted living communities that together house more than 3,800 apartments.
"Our focus," says Rod Burkett, President and CEO of BMA Management, "is to provide Deer Path residents with the love, compassion and dignity they deserve and the help and assistance they need. Our emphasis is on helping each resident achieve and maintain as much independence as possible for as long as possible."
Communities managed by BMA include the Heritage Woods affordable assisted living communities in Batavia, Bolingbrook, Chicago, Gurnee, Manteno, McHenry, Plainfield, Rockford and Yorkville, Illinois.
For more information on BMA Management; the assisted living, senior living and memory care communities that the company operates; or the company's management, development and consulting services, visit http://www.bma-mgmt.com or call 1-877-882-1495 toll-free.