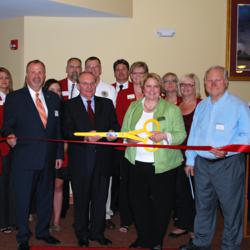 For many families, this will be a solution to a crisis situation.
Bradley, Illinois (PRWEB) July 10, 2013
BMA Management, Ltd., has opened Heritage Woods of Freeport, an affordable assisted living community in Freeport, Illinois.
The $14.4 million project, which is located at 1500 S. Forest Rd. in Freeport, houses 76 apartments and is designed to serve older adults of all incomes, including those on Medicaid, who need some help to maintain their independence.
BMA Management is the largest provider of assisted living in Illinois and the 16th largest provider in the United States.
"We are very excited to be here," said Rod Burkett, President and CEO of BMA, during the ribbon cutting ceremony that marked the completion of construction. "For many families, this will be a solution to a crisis situation."
Freeport is located in north central Illinois about 25 miles west of Rockford and serves as the county seat for Stephenson County.
BMA developed the Heritage Woods community in partnership with the Stephenson County Nursing Center Foundation and serves as the management company.
The community is certified to operate through the Illinois Supportive Living program. The program helps older adults maintain active aging by combining residential apartment-style housing with the availability of personal assistance and support services, said Wayne Smallwood, who is Executive Director of the Affordable Assisted Living Coalition.
Through the Supportive Living program, Illinois is the leader in affordable assisted living, said Smallwood. We have the largest program in the country. No other state commits as much money in Medicaid dollars to affordable assisted living.
With the opening of Heritage Woods of Freeport, there are 142 communities that operate through the Supportive Living program in 76 counties in Illinois. Together, the communities house more than 11,000 apartments.
"It is nice and exciting to know that there is a program in Illinois that works," said Sen. Tim Bivins, who represents the 45th District in the Illinois Senate. The community is a "great addition to Freeport."
Freeport Mayor Jim Gitz commended the collaboration and cooperation between local, county, state and federal governments and private enterprise that helped make Heritage Woods of Freeport possible.
The P/R Mortgage and Investment Corp. of Carmel, Indiana, provided a $6.65 million construction and permanent loan for the development. The loan was insured by U.S. Department of Agriculture Rural Development.
An additional $6.76 million in financing came from low-income housing tax equity, with the National Development Council providing the equity and the Illinois Housing Development Authority providing the tax credits.
The community was designed by Gleason Architects, P.C. of Sugar Grove, Illinois. Horve Builders of Forysth, Illinois, served as the general contractor.
Speaking on behalf of the Stephenson County Nursing Center Foundation during the ribbon cutting ceremony, Bob Skurla gave special recognition to Ed Yde, who was a driving force in getting a Supportive Living community into town.
"This was his baby," said Skurla. Yde, who passed away in February, had served as President of the Nursing Center Foundation.
Kelly Hillan, Administrator of Heritage Woods of Freeport, says that "what impresses me the most is seeing how we will be able to make such a big difference in the quality of people's lives. The community provides a wonderful alternative to a nursing home or struggling alone at home"
Hillan previously served as the Executive Director of the Senior Resource Center in Freeport.
She noted that more than 50% of the apartments already have been reserved.
"We have older adults from throughout Stephenson County moving in as well as older adults from outside our area who are moving in to be close to family," says Hillan.
Residents live in private apartments that they can furnish and decorate to their taste. Each of the studio and one-bedroom floor plans include a kitchenette, spacious bathroom with shower and grab bars, individually-controlled heating and air conditioning and an emergency alert system.
Certified nursing assistants, working under the direction of a licensed nurse, are on-duty 24 hours a day, seven days a week. Three meals a day, housekeeping and laundry are among the included services.
"Residents also benefit from all of the opportunities that are available to socialize with friends and neighbors and to participate in social activities and special programs no matter what the weather," says Hillan.
The community will be hosting Grand Opening Open Houses from 10 a.m. to 2 p.m. on Saturday and Sunday, July 13 and 14.
"We invite you to take advantage of these special opportunities to see Heritage Woods of Freeport and to learn about the affordable assisted living lifestyle that is available for adults 65 and older of all incomes, including those on Medicaid," says Hillan.
For more information about Heritage Woods of Freeport, call 815-801-3900.
BMA Management is based in Bradley, Illinois.
"Our focus," says Burkett, "is to provide residents of Heritage Woods with the love, compassion and dignity they deserve and the help and assistance they need. Our emphasis is on helping each resident achieve and maintain as much independence as possible for as long as possible."
Communities managed by BMA Management include the Heritage Woods affordable assisted living communities in Belvidere, Moline, Ottawa, Rockford and Sterling, Illinois.
BMA is the management company for the Deer Path affordable assisted living community for adults 22 to 64 years of age with physical disabilities that is under development in Huntley and the St. Anthony affordable assisted living community for older adults that is under development in Lansing, Illinois. Both communities are scheduled to open for occupancy this summer. Reservations are being accepted.
For more information about BMA Management; the assisted living, senior living and memory care communities that BMA operates; and the company's management, development and consulting services, visit bma-mgmt.com or call 1-877-882-1495 toll-free. Go to the Heritage Woods of Freeport website for more images from the VIP.