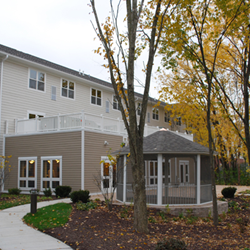 Bradley, Illinois (PRWEB) November 08, 2014
Heritage Woods of Gurnee, a BMA affordable assisted living community, is hosting a flag-raising ceremony at 2 p.m. on Nov. 11.
The community, which is located at 3775 Grand Ave. in Gurnee, Illinois, serves older adults of all incomes, including those on Medicaid, who need some help to maintain their independence.
Bill Hossman, the son-in-law of Heritage Woods resident Rosemary Asta, will be the guest speaker during the ceremony. He will thank veterans for their service and talk about his mother-in-law's trip to the nation's capital as part of a 2013 Honor Flight. Honor Flights pay tribute to veterans by taking them to Washington, D.C. for a day of honor and remembrance.
Community members are also invited to stop by Heritage Woods between 9 a.m. to 5 p.m. on Nov. 11 to view a veterans-themed display. Items on display will include photographs of residents who have served in the military, memorabilia and books about previous wars.
For more information, call 847-623-6300.
Heritage Woods of Gurnee is the first affordable assisted living community to be developed in Lake County by BMA Management, Ltd., of Bradley, Illinois. The company is the largest provider of assisted living in Illinois.
"We provide older adults of all incomes with a wonderful alternative to a nursing home or to struggling alone at home," says Tammy Temaner-Rosas, Director of Marketing at Heritage Woods. "Residents benefit from living in a residential apartment-home environment and receiving personal assistance and help with medications."
Private studio and one-bedroom apartments are available. Each of the apartments features a kitchenette, spacious bathroom with shower and grab bars, individually-controlled heating and air conditioning, and emergency alert system.
Certified nursing assistants are on-duty 24 hours a day, seven days a week. Meals, housekeeping and laundry are among the included services.
"Residents also benefit from all of the opportunities that are available to socialize with friends and neighbors and to participate in activities and special events," says Temaner-Rosas.
BMA Management operates 37 assisted living, senior living and memory care communities that together house nearly 3,700 apartments.
"Our focus," says Rod Burkett, President and CEO of BMA Management, "is to provide Heritage Woods of Gurnee residents with the love, compassion and dignity that they deserve and the help and assistance that they need."
Communities managed by BMA include the Heritage Woods affordable assisted living communities in Batavia, Bolingbrook, Chicago, McHenry, Plainfield and Yorkville, Illinois.
BMA also manages the Heritage Woods assisted living community in Huntley, Churchview Supportive Living in Chicago, and the Heritage Woods affordable assisted living and memory care community in South Elgin.
For more information about BMA Management and the assisted living, senior living and memory care communities that the company operates, visit http://www.bma-mgmt.com or call 1-877-882-1495 toll-free.