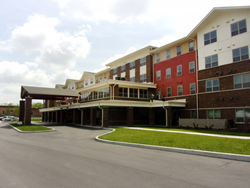 March Madness is upon us. Stop by to enjoy lunch, take a tour of our community and enter for a chance to win our March Madness-themed basket.
Bradley, Illinois (PRWEB) March 11, 2017
Oasis at 30th, a Gardant affordable assisted living community, is hosting March Madness Lunch and Tour events from 11 a.m. to 1 p.m. March 13 through March 17.
The community, which is located at 5651 East 30th Street, Indianapolis, serves older adults of all incomes.
"March Madness is upon us," said Hannah Woodard, Director of Marketing at Oasis. "Stop by to enjoy lunch, take a tour of our community and enter for a chance to win our March Madness-themed basket."
The dietary team at Oasis has planned the following lunch menus for the week:
Monday, March 13: coconut fish, rice and sauteed mixed vegetables or smothered pork, red potatoes, brussel sprouts. Both options are served with fresh baked bread and carrot cake.
Tuesday, March 14: beef stroganoff, egg noodles and carrots or egg salad sandwich, marinated cucumbers and carrots. Both options come with fresh baked bread and cherry tarts.
Wednesday, March 15: braised pork, creamy potatoes, mixed vegetables and fresh baked bread or a Coney Island hot dog and tater tots. Both options are served with red gelatin cake.
Thursday, March 16: turkey tetrazzini and spinach or southwestern salad. Both options will be served with breadsticks and old-fashioned pie.
Friday, March 17: fried fish, peas, tossed salad and fresh baked bread or a French dip sandwich and sweet potato fries. Chocolate cake will be served for dessert.
The lunch-and-tour events are open to the public; there is no charge to attend.
For more information, call 317-297-9000.
Oasis at 30th offers adult day care options and affordable assisted living. The three-story building features 124 one-bedroom apartments and offers a full spectrum of services that help older adults embrace their independence.
"We provide older adults with a wonderful alternative to a nursing home or to struggling alone at home," Woodard says. "Residents benefit from living in a residential apartment-home environment and receiving personal assistance and help with medications."
Each of the apartments at Oasis features a kitchenette, spacious bathroom with shower and grab bars, and emergency alert system.
Certified nursing assistants are on-duty 24 hours a day, seven days a week. Meals, housekeeping and laundry are among the included services.
"Residents also benefit from all of the opportunities that are available to socialize with friends and neighbors and participate in social activities," says Woodard.
Based in Bradley, Illinois, Gardant Management operates Oasis and more than 50 other senior and assisted living communities. It is the 12th largest provider in the United States.
"Our focus is on providing Oasis residents with the love, compassion and dignity that they deserve in addition to the help and assistance that they need," says Rod Burkett, President and CEO of Gardant.
The company's portfolio recently expanded to include several assisted lifestyle communities under development in Indiana, including Belvedere Senior Housing in Merrillville, Hellenic Senior Living communities in Indianapolis and New Albany, and the Silver Birch communities in Hammond, Kokomo, Michigan City and Muncie.
For more information on Gardant Management Solutions and the assisted living, senior living and memory care communities the company manages, visit http://www.gardant.com.