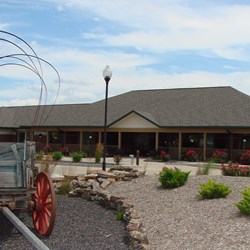 Join us for a wonderful evening where you can shop for purses and help fund programs that make a huge difference in our community.
Bradley, Illinois (PRWEB) September 11, 2013
Grand Prairie of Macomb, a BMA affordable assisted living community, is partnering with the McDonough County United Way for Power of the Purse, an annual fundraiser that benefits the charitable organization's programs.
The community, which is located at 1307 Meadowlark Lane in Macomb, Illinois, serves older adults who need some help to maintain their independence.
Guests will have an opportunity to bid on purses during the Sept. 14 auction at the Spoon River Outreach Center, 2500 East Jackson Street, Macomb. The event will take place from 6 p.m. to 9 p.m.
Tickets are $25 in advance or $30 at the door. Admission includes access to the auction, as well as a beer/wine bar and a chocolate bar.
"Please join us for a wonderful evening where you can shop for purses and help fund programs that make a huge difference in our community," said Grand Prairie Director of Marketing Kayla Daudelin.
Organizers expect to raise more than $20,000 this year. All proceeds from the event will benefit United Way programs.
For more information about the purse premiere or Grand Prairie, call 309-833-5000.
Grand Prairie recently was recognized as one of the Top 20 assisted living communities in Illinois by Assisted Living Today for providing trustworthy and competent care and fostering the independence and individuality of residents.
The affordable assisted living community is the only community for older adults in McDonough County that is certified to operate through the Illinois Supportive Living program. The community is managed by BMA Management, Ltd., which is the largest provider of assisted living in Illinois.
"We provide older adults with a wonderful alternative to a nursing home or to struggling alone at home," says Daudelin.
The community combines residential apartment-home living with the availability of personal assistance, help with medications and the availability of a variety of convenience and support services.
Residents live in private apartments that they furnish and decorate to their tastes. Certified nursing assistants are on-duty 24 hours a day, seven days a week. Meals, housekeeping and laundry are among the included services.
"Residents also benefit from all of the opportunities that are available to socialize with friends and neighbors and to participate in activities and special programs," says Daudelin.
BMA Management, the company that manages Grand Prairie of Macomb, is based in Bradley, Illinois.
"Our focus is on providing the residents of Grand Prairie with the love, compassion and dignity they deserve and the help and assistance they need," says Rod Burkett, President of CEO of BMA. "Our emphasis is on helping each resident achieve and maintain as much independence as possible for as long as possible."
Communities managed by BMA Management include the John Evans affordable assisted living community in Pekin and the Heritage Woods affordable assisted living communities in Belvidere, DeKalb, Dwight, Freeport, Moline, Ottawa, Rockford and Sterling, Illinois.
For more information about BMA Management; the assisted living, senior living and memory care communities that BMA operates; and the company's management, development and consulting services, visit http://www.bma-mgmt.com or call 1-877-882-1495 toll-free.