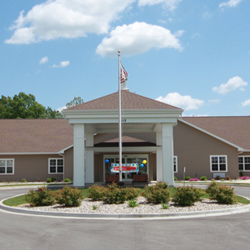 We invite area seniors to stop by on Election Day for a biscuits and gravy breakfast at our community.
Bradley, Illinois (PRWEB) October 23, 2014
Heritage Woods of McLeansboro, a BMA affordable assisted living community, will host an Election Day Breakfast for seniors at 8 a.m. on Nov. 4.
The community, which is located at 605 S. Marshall in McLeansboro, Illinois, serves older adults of all incomes, including those on Medicaid, who need some help to maintain their independence.
"We invite area seniors to stop by on Election Day for a biscuits and gravy breakfast at our community," said Kelly Webb, Director of Marketing at Heritage Woods.
For more information, call 618-643-2908.
Heritage Woods is the only senior living community in Hamilton County that is certified to operate through the Illinois Supportive Living program. The community is managed by BMA Management, Ltd., the largest provider of assisted living in Illinois.
"The community provides seniors with a wonderful alternative to a nursing home or to struggling alone at home," says Webb.
Residents benefit from the opportunity to live in a residential apartment-home environment and receive the personal assistance and help with medications they need.
Each of the apartments features a kitchenette, spacious bathroom with shower and grab bars, and an emergency alert system.
Certified nursing assistants are on-duty 24 hours a day, seven days a week. Meals, housekeeping and laundry are among the included services.
Residents also benefit from all of the opportunities that are available to socialize with friends and neighbors no matter what the weather and to participate in a variety of activities and special events, says Webb.
"Our focus is to provide residents with the love, compassion and dignity that they deserve in addition to the care and assistance that they need," she says. "Our emphasis is on helping each resident to achieve and maintain as much independence as possible for as long as possible."
Based in Bradley, Illinois, BMA Management operates 37 senior living communities, hosuing more than 3,700 homes and apartments.
The senior living communities managed by BMA include the Heritage Woods affordable assisted living communities in Flora, Benton and Mt. Vernon, Illinois; the Prairie Living affordable assisted living community in Carbondale, Illinois; and the Cambridge House affordable assisted living communities in Maryville, O'Fallon and Swansea, Illinois.
BMA also manages Heritage Woods of Centralia, which features senior living apartments, affordable assisted living apartments, and rental homes for low-income adults 55 years of age and older.
For more information on BMA Management, Ltd. and the managed senior communities, please visit http://www.bma-mgmt.com