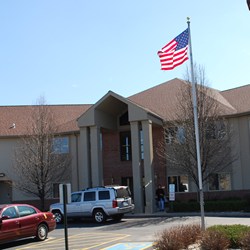 We value their service, and this breakfast is just a small token of our appreciation.
Bradley, Illinois (PRWEB) July 31, 2013
Heritage Woods of Ottawa – a BMA affordable assisted living community – will host a Heroes Breakfast on Aug. 13 to honor firefighters, police officers and emergency medical technicians for their service. The breakfast is planned from 7 a.m. to 9 a.m. on Tuesday, Aug. 13 at Heritage Woods.
The community, which is located at 801 E. Etna Road in Ottawa, Illinois, serves older adults of all incomes, including those on Medicaid, who need some help to maintain their independence.
"We would like to take time out of our day to recognize the men and women who respond to emergencies – and protect and serve us in their roles as emergency responders," said Deb Pusateri. "We value their service, and this breakfast is just a small token of our appreciation."
For more information about the breakfast or Heritage Woods of Ottawa, call 815-431-1400.
The community combines residential apartment-home living with the availability of personal assistance, help with medications, and a variety of convenience and support services.
Each of the private studio and one-bedroom apartments features a kitchenette, spacious bathroom with shower and grab bars, individually-controlled heating and air conditioning, and an emergency alert system. Residents furnish and decorate their apartment to their taste.
Certified nursing assistants, working under the direction of a licensed nurse, are on-duty 24 hours a day, seven days a week. All three meals each day, housekeeping and laundry are among the included services.
"Residents also benefit from all of the opportunities that are available to socialize with friends and neighbors and participate in activities and special events," says Pusateri. "We offer a wonderful alternative to a nursing home or to struggling alone at home."
The Heritage Woods of Ottawa affordable assisted living community is certified to operate through the Illinois Supportive Living program and is managed by BMA Management, Ltd., the largest provider of assisted living in Illinois.
"Our focus is on providing residents with the love, compassion and dignity that they deserve and the help and assistance that they need," says Rod Burkett, Presidents and CEO of BMA. "Our emphasis is on helping each resident to achieve and maintain as much independence as possible for as long as possible."
Based in Bradley, Illinois, BMA Management operates 36 assisted living, senior living and memory care communities that together house nearly 3,400 apartments.
Communities managed by BMA include the Heritage Woods affordable assisted living communities in Belvidere, DeKalb, Dwight, Freeport, Moline, Rockford, Sterling and Yorkville, Illinois. BMA also manages the John Evans affordable assisted living community in Pekin.
For more information on BMA Management and the assisted living, senior living and memory care communities that the company operates, visit http://www.bma-mgmt.com or call 1-877-882-1495 toll-free.