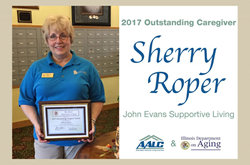 Their exceptional work not only demonstrates their dedication, devotion, and commitment to helping others, but has also touched and continues to touch, the lives of countless residents across the state.
Bradley, Illinois (PRWEB) October 18, 2016
Sherry Roper, a housekeeper at John Evans Supportive Living, received the 2017 Outstanding Caregiver Award during an awards presentation in Springfield.
The Outstanding Caregiver Award is given to a direct care worker over the age of 55 who has provided outstanding caregiving in Illinois senior housing. The award is presented by the Illinois Department on Aging and the Affordable Assisted Living Coalition.
Each year, judges review nominations for remarkable caregivers from across the state — and determining the winners is a difficult task, said Jean Bohnhoff, director of the state's aging department.
"These individuals truly deserve honor and recognition for the work they do," Bohnhoff said. "Their exceptional work not only demonstrates their dedication, devotion, and commitment to helping others, but has also touched and continues to touch, the lives of countless residents across the state."
Melanie Daniels, the administrator at the affordable assisted living community Gardant manages in Pekin, Illinois, wrote this nomination letter for Sherry:
"I am honored to nominate Sherry for the Outstanding Caregiver Award. When deciding which employee to nominate, Sherry's name did not readily come to mind. This is not because Sherry does not do an outstanding job, but because it is easy to forget she is over the age of 55 – considerably older, actually, at the age of 66. She has the enthusiasm and spirit of someone half her age.
"Although she now only works one day a week, it is a day that everyone looks forward to. Her smile and cheerful nature spreads through the community like sunshine. She arrives like a breath of fresh air. After her years working as a housekeeper, she has learned the little "extras" that each resident likes, whether it is extra carpet shampooing for Jackie or extra polishing and dusting of Bonnie's angel collection. She knows that it is the little things that make a big difference.
"Sherry is always gentle, patient and caring with everyone she encounters and is always happy to go above and beyond to make others happy. She makes crafts in her free time and is always happy to bring them in on her days off for the residents to share and enjoy. She has the same caring nature with our staff. She is an example of her faith, not by words or "preaching", but by her patient listening skills and concern for others.
"I am privileged to know and work with Sherry, even if it is only one day a week. It is one day that makes a big impact on everyone!"
The John Evans affordable assisted living community combines residential apartment-home living with the availability of personal assistance, help with medications, and a variety of convenience and support services.
"We provide older adults with a wonderful alternative to the nursing home or struggling alone at home," Daniels said.
Residents live in private apartments that they furnish and decorate to their taste. Each of the studio and one-bedroom apartments includes a kitchenette, spacious bathroom with shower and grab bars, individually-controlled heating and air conditioning, and an emergency alert system.
Certified nursing assistants are on-duty 24 hours a day, seven days a week. Meals, housekeeping and laundry are among the included services.
"Residents also benefit from all of the opportunities that are available to socialize with friends and neighbors and to participate in activities and special programs," says Daniels.
The community is certified to operate through the Illinois Supportive Living program.
"Our focus is on providing John Evans residents with the love, compassion and dignity they deserve and the help and assistance they need," says Rod Burkett, President of CEO of Gardant Management Solutions, the largest provider of assisted living in Illinois. "Our emphasis is on helping each resident achieve and maintain as much independence as possible for as long as possible."
Other communities managed by Gardant include the Grand Prairie affordable assisted living community in Macomb and the Heritage Woods affordable assisted living communities in DeKalb, Dwight, Freeport, Moline, Ottawa and Sterling, Illinois. GateWay at River City, an assisted living community that will serve adults ages 22 to 64 with physical disabilities, will open in Peoria next month.
For more information about Gardant Management Solutions, the assisted living, senior living and memory care communities Gardant operates, and the company's management, development and consulting services, visit http://www.gardant.com or call 1-877-882-1495 toll-free.