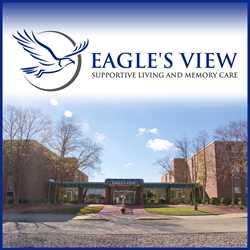 Bradley, Illinois (PRWEB) March 09, 2017
Eagle's View Retirement Community and Memory Care is undergoing major renovations to expand its dementia care offerings and provide housing services to more seniors in Champaign County.
As part of the project, 99 apartments will be fully renovated. The community will operate under the Illinois Supportive Living Program, which allows it to serve seniors of all incomes, including those on Medicaid.
The next phase of the multi-million dollar expansion will add 17 memory care units to the building. These apartments will be part of a specialized neighborhood within Eagle's View that caters to older adults with Alzheimer's disease or related dementia. It will provide opportunities for residents to maintain a sense of purpose and belonging throughout the seasons of dementia.
With the number of older adults needing affordable housing assistance expected to increase in the years ahead, there are also plans for further expansion.
Eagle's View, formerly known as Prairie Village Retirement Community, is located on the Chanute Air Force Base in Rantoul.
Gleason Architects, P.C. designed the project.
Each of the private apartments at the community will feature a spacious bathroom with shower and grab bars, individually-controlled heating and air conditioning units, and an emergency alert system.
In addition, Eagle's View will have other community areas, including two dining rooms, multi-purpose rooms, sun rooms, a fitness area and salon.
Certified nursing assistants, working under the direction of a licensed nurse, will be on-duty 24 hours a day, seven days a week.
Gardant Management Solutions is the management company for the property. Gardant is the largest assisted living provider in Illinois and the 12th largest provider in the country. The company operates more than 40 communities in Illinois, including Bowman Estates of Danville, Eagle Ridge of Decatur, Prairie Winds of Urbana, and Heritage Woods of Charleston and Watseka in central Illinois.
"Our focus in the assisted living and memory care apartments that we operate," said Gardant CEO Rod Burkett, "is to provide residents with the love, compassion and dignity they deserve and the support and assistance they need. Our emphasis is on helping residents as they achieve and maintain as much independence as possible for as long as possible."
For more information about the renovation project or the apartments available at Eagle's View Retirement Community and Memory Care, call 217-892-2800.