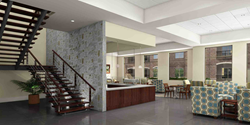 Houston, TX (PRWEB) March 26, 2014
The Health and Wellness Building will open on May 19. The new health and wellness center includes rehabilitation services through on-site home health. Visitors to the Center for Health and Wellness can find the latest technology in a state-of-the-art Hydro Therapy Pool by HydroWorx.
The Abbey at Westminster is proud to be the only retirement community in Houston to offer hydro therapy services that are billable as out-patient rehab services. Patients with mobility, balance or fitness issues will benefit from the moveable floor that allows safe access to the pool without ladders or steps. The directional resistance and therapy jets help to increase strength and range of motion. Stretching and exercising against the jets also tones and relaxes muscles and the jets aid in stripping the muscles of lactic acid.
Amenities at the new Center for Health and Wellness include the HydroWorx aquatic therapy pool, an indoor heated swimming pool and spa, locker rooms, water aerobics, an exercise physiologist, a fitness center and gym, cardio, weight and aerobic areas, group exercise classes with personal trainer, a DINOFLEX indoor track, an outdoor grilling kitchen area, an extra-large multi-purpose/conference room, licensed rehabilitation services, home health, a physician's office, a full-service hair salon and a bistro.
The HydroWorx Series 1200 pool allows patients to be lowered into the water onto a patented aquatic underwater treadmill. These advanced therapy pools are used by elite athletes and sports teams, including the Houston Rockets, Pittsburgh Steelers, University of Notre Dame, University of Texas, NASA and the Navy Seals, to name just a few.
The Fitness Center and Gym contains equipment such as treadmills, stationary bicycles and weights. On hand is a Certified Exercise Physiologist/Personal Trainer to help with personal fitness goal-setting. Cardio group exercise and stretch classes will take members to their optimum level of health.
The Abbey at Westminster Plaza is a family-owned luxury retirement community offering assisted living and memory care with a brand new 141-unit independent living community opening in August. The Abbey at Westminster is located in West Houston, near Houston's Energy Corridor, Royal Oaks Country Club and conveniently located near the Memorial area. Call Barbara McMahan-Cage at (713) 449-6940 for more information.
About the company:
The Abbey at Westminster Plaza is an all-inclusive luxury senior living community serving the Memorial and West Houston areas. Located at the intersection of Richmond Avenue and Westminster Plaza Drive, two blocks west of the Royal Oaks Country Club, this beautiful community is strategically located within close proximity to shopping centers, restaurants, medical offices and hospitals. This master-planned community for senior adults was developed by Founder's Commercial, Ltd, a family-owned business with a long and distinguished history in health care. For more information, visit their website at http://www.abbeywp.com/.