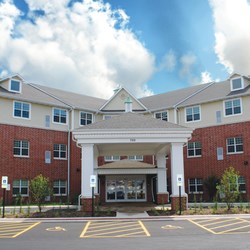 This is a cause that is near and dear to our residents, their families and our hearts.
Bradley, Illinois (PRWEB) August 29, 2013
Heritage Woods of South Elgin, a BMA affordable assisted living and memory care community, is hosting an Alzheimer's Walk on Sept. 6.
The community, which is located at 700 N. McLean Blvd. in South Elgin, Illinois, serves older adults of all incomes, including those on Medicaid.
"Join us as we walk to support research for Alzheimer's disease and dementia," said Andrea Lillie, Director of Marketing for Heritage Woods of South Elgin. "This is a cause that is near and dear to our residents, their families and our hearts."
The South Elgin Alzheimer's Walk will begin at 10 a.m. Hydration stations will be placed throughout the walking route, and a vibrant cheering section will encourage everyone along the way. Purple sport backpacks will be given to those who complete the walk.
A lunch fundraiser will begin at 11:30 a.m. Proceeds from the hot dog, popcorn and soda sales will benefit the Alzheimer's Association. Nearly 1 in 7 seniors are affected by Alzheimer's disease.
The walk was planned for September, which is recognized as National Alzheimer's Awareness Month, as walks across the country are planned to raise awareness and funding for the disease.
For more information, call Lillie at 847-531-8360.
Heritage Woods of South Elgin is certified to operate through the Illinois Supportive Living program and is managed by BMA Management, Ltd. -- the largest provider of assisted living in Illinois.
The community features affordable assisted living apartments for adults 65 and older who need some help to maintain their independence. Personal assistance, help with medications, and a variety of convenience and support services, including meals, housekeeping and laundry, are provided.
The community also features specialized apartments for older adults with Alzheimer's or related dementia.
"Our focus," says Rod Burkett, President and CEO of BMA Management, "is to provide the residents of Heritage Woods of South Elgin with the love, compassion and dignity that they deserve and the help and assistance that they need."
Communities managed by BMA Management include the Heritage Woods assisted living community in Huntley, Illinois.
BMA also operates Churchview Supportive Living in Chicago and the Heritage Woods affordable assisted living communities in Batavia, Bolingbrook, Chicago, Gurnee, Manteno, McHenry, Plainfield and Yorkville.
BMA is the management company of the Deer Path affordable assisted living community for adults 22 to 64 years of age with physical disabilities that recently opened in Huntley and the St. Anthony affordable assisted living community for older adults that opened in Lansing, Illinois earlier this month.
For more information about BMA Management; the assisted living, senior living and memory care communities that the company operates; and the company's management, development and consulting services, visit http://www.bma-mgmt.com or call 1-877-992-1495 toll-free.