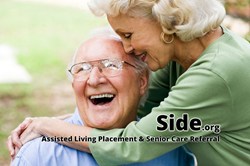 Phoenix, AZ (PRWEB) August 01, 2013
Side.org, an assisted living and senior care placement agency, has recently launched their website to help families find assisted living and senior care for their loved ones in Arizona. With a focus on superior, trustworthy care, Side.org senior care consultants conduct thorough reviews of all facilities they recommend. Once a partnership is established with a care home, Side.org consults with families, finding the most suitable and reliable assisting living facility for their loved one.
Side.org's founder, Savin Gatchalian, has a plethora of first-hand experience with what it takes to run an excellent senior care home. "I grew up in an adult care home operated by my parents," Gatchalian says. "As the business expanded, I managed two of their assisted living facilities. I know all the intricacies of what it takes to have an exemplary senior care home, from maintaining compliance with the health department, upholding high ethical standards in every employee, to making sure that each client is safe, happy, and well cared for."
To contact Side.org, you can visit Side.org and or call (480) 442-3486 to schedule an appointment with a professional Senior Care Advisor (SCA). The SCA provides a comprehensive evaluation and assessment to ensure clients are matched to the best home for their unique situation. Side.org will help facilitate tours and provide detailed information to each family. When the family is ready to make a decision, Side.org will help schedule the transition with the senior living community of their choice. This service is at no cost to the family.
Servicing the major Phoenix metropolitan area, Side.org serves as a local resource and senior referral agency to help compare senior care services, housing, amenities and costs, including the locations of Tucson, Tempe, Chandler, Ahwatukee, Scottsdale, Gilbert, and Mesa.
To read more information about Side.org and learn more about the process of selecting senior care services, click http://www.Side.org, visit their blog and connect with them on Twitter.