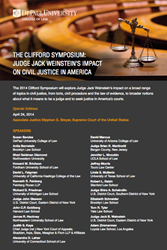 We are extraordinarily gratified that Associate Justice Stephen G. Breyer of the Supreme Court of the United States will be joining us to deliver a special address at our 20th annual symposium
Chicago, IL (PRWEB) December 05, 2013
On April 24th, 2014 Associate Justice Stephen G. Breyer of the Supreme Court of the United States will make a special address at DePaul University's 20th annual Clifford Symposium. Breyer's talk will explore federal Judge Jack Weinstein's work on civil justice. As a distinguished member of the legal community, Breyer's contributions will provide an enlightening and insightful introduction to this year's symposium.
Appointed by President Bill Clinton in 1994, Stephen G. Breyer is an honored Associate Justice of the United States Supreme Court. Breyer received his A.B. from Stanford University, a B.A. from Magdalen College, Oxford, and an LL.B. from Harvard Law School. Breyer is joined by a distinguished roster of legal experts who will discuss a wide range of topics on civil justice including torts, civil procedure and the law of evidence. All speakers will examine Judge Jack Weinstein's impact on America's courts and the true meaning of seeking justice within today's civil justice system.
Robert A. Clifford, founder and supporter of the Clifford Symposium says; "We are extraordinarily gratified that Associate Justice Stephen G. Breyer of the Supreme Court of the United States will be joining us to deliver a special address at our 20th annual symposium. His commitment to the profession in all of the work that he does on the bench and off is to be particularly recognized by the legal community throughout the country. This will be a stimulating discussion and scholarship in American tort law," Clifford continues. "Throughout his entire career, Judge Jack Weinstein has been a central figure in that dialogue. We are proud and grateful that he would honor us on this special anniversary by allowing us to dissect his lifelong work."
The Clifford Symposium continues to provide meaningful expression to Clifford's strong belief that the civil justice system serves a number of vital interests in American society."
To learn more about the 2014 Clifford Symposium visit: http://bit.ly/1995co5
About Robert Clifford
Robert A. Clifford was named by Chicago Magazine as one of the top 100 Most Powerful Chicagoans in 2013, remains committed to raising the quality of the practice of law in the state of Illinois and promoting civility. Clifford was named the 2012 Chicago Lawyer Person of the Year. Based upon his trial accomplishments, and his contributions to the legal community and the Chicago area, his colleagues nominated him for the prestigious honor given to one person each year. He is the founder of Clifford Law Offices, a nationally recognized personal injury law firm in Chicago concentrating in aviation, transportation, personal injury, medical negligence, and product liability law. To learn more about Robert Clifford visit http://cliffordlaw.com/attorneys/robert-a-clifford/