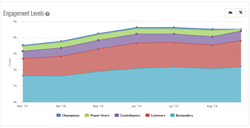 This is truly a unique system built not only to make the lives of association staff easier, but to engage members in a lasting, impactful way so they remain members and refer their colleagues and friends
Mesa, AZ (PRWEB) November 22, 2016
Socious, a leading association management software company, will exhibit at the California Society of Association Executives' (CalSAE) tradeshow, Seasonal Spectacular, on December 1st in Sacramento, CA.
Seasonal Spectacular is the largest annual association industry tradeshow on the west coast, and focuses on showcasing the latest solutions, knowledge, and community-building technology and techniques for associations. Socious's MemberCloud AMS software, which will be featured at the show, encompasses all three of Seasonal Spectacular's solutions, knowledge, and community pillars by:

Providing a comprehensive set of membership management, dues collection, and event planning tools
Compiling the expert knowledge of associations and their members into online resource libraries
Building a fully-integrated private member community for networking, education, and communication between members, their peers, and association professionals
"This tradeshow about helping associations find the best technology to solve their problems. That's a passion we share," said Socious's VP of Marketing and Strategy, Joshua Paul. "MemberCloud is designed specifically to give association executives and staff a single tool to deliver more value to their members with less time and effort."
Attendees can visit the Socious booth to learn more about MemberCloud AMS and take an interactive walk-through of the system's features. Top functionality includes fully-configurable tiered membership, dues collection, reporting and analytics, a private member community, and an event system complete with robust speaker management.
By taking advantage of MemberCloud's tools associations can provide ongoing value to members, increase member engagement, and build stronger relationships that often lead to increased retention and revenue. Top members can also participate in referral programs to bring in more new members.
Socious's MemberCloud AMS is a compelling solution for associations that are looking for revenue, retention, and acquisition tools in a single platform. Everything in the system is included in a single price, so there's no need for associations to choose between what they need and what they want.
"This is truly a unique system built not only to make the lives of association staff easier, but to engage members in a lasting, impactful way so they remain members and refer their colleagues and friends," said Paul Schneider, Socious's CEO. "We're so sure that associations will love the system that we're even offering the industry's only money-back guarantee. If you aren't entirely satisfied with MemberCloud, we'll refund every penny of your investment."
Socious will demonstrate their MemberCloud AMS throughout the Seasonal Spectacular. All attendees are welcome to come by the Socious booth for more information or an in-depth walk-through. More information about MemberCloud and Socious's event schedule is also available at socious.com.
About Socious
Founded in 2002, Socious (socious.com) offers software and services to help associations and user communities take a members-first approach to growing and engaging their membership. Socious's MemberCloud platform manages over 1.8 million members for many of the world's top associations and companies.
Socious's cloud-based association management and community software includes membership management, private social networking, customer communication tools, discussion forums, and collaboration tools to help organizations increase sales, retention, and member engagement.
Socious provides a full range of professional services to help organizations manage their membership, grow their community, and plan events. Take a video tour of Socious's MemberCloud association management software.
###