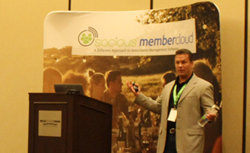 Our MemberCloud Managed AMS program gives association professionals hours back in their day to spend time on the parts of their jobs that they enjoy most.
Mesa, AZ (PRWEB) May 26, 2016
Socious unveiled a new approach to association management by announcing MemberCloud at the company's annual conference near Phoenix, Arizona this week. Socious and its MemberCloud platform provide the technology and services to help association executives deliver more value to their members and put the focus on the organization's most important initiatives, rather than wrestle with their AMS software.
"Association members care about opportunities to learn, advance their careers, and network with their peers. We created the first AMS built on a community with all of the AMS features the organization needs with all of the engagement features members want," said Paul Schneider, CEO of Socious.
Socious turns the old AMS model on its head by creating a membership management platform that is built around an organization's community. MemberCloud's community-centric model puts members first, while easing the burden of daily communication and membership management tasks that falls on association executives.
Over 60 associations are already using Socious's new MemberCloud association management software.
"We work with associations that place a premium on building community and providing ongoing value to their members online. We include all of the dues management and reporting features that you would expect from an AMS for mid-sized or large associations while allowing you to put an emphasis on content, connections, and community. In addition, we offer customer support that is raved about by our customers. Organizations that switch from other AMS platforms to us are amazed at the difference," continued Schneider.
Setting up and managing integrations between different systems is a big headache for association executives. Socious's new approach to association management software gives organizations all of the core back-end and member-facing features they need under one roof. Associations no longer have to get the best-of-breed membership, CMS, community, email marketing engine, abstract management and event system. With MemberCloud, they can have all of that functionality in one system. This means that members, volunteers, and staff will only need to learn one toolset.
A single system also means that the Socious MemberCloud platform contains all of an organization's membership, transaction, and engagement data from their AMS, website, and online community in one place. The combined data set gives association leaders unrivaled information about your members' challenges, interests, and priorities.
Unlike other AMS platforms, this comprehensive view of membership doesn't come at the expense of time or ease of use. Many of the associations that migrate to MemberCloud are coming from systems where a majority of their time is spent on creating reports and other behind-the-scenes processes.
For the first time, associations can rely on their virtual AMS administrator to do all of the in-the-trenches report building, website maintenance, and event setup, so that they can focus on higher priority tasks.
"Our MemberCloud Managed AMS program gives association professionals hours back in their day to spend time on the parts of their jobs that they enjoy most, like strengthening relationships with members, instead of spending hours manipulating data and coding webpages. It's also about helping our customers get home from the office in time for dinner instead of working nights and weekends wrestling and troubleshooting with their AMS system," Schneider said.
The Socious MemberCloud membership management, community, and managed AMS platforms are available now. Learn more at Socious.com.
About Socious
Founded in 2002, Socious (socious.com) offers software and services to help associations and user communities take a members-first approach to growing and engaging their membership. Socious's MemberCloud platform manages over 1.5 million members for many of the world's top associations and companies.
Socious's cloud-based association management and community software includes membership management, private social networking, customer communication tools, discussion forums, and collaboration tools to help organizations increase sales, retention, and member engagement.
Socious provides a full range of professional services to help organizations manage their membership, grow their community, and plan events.
###