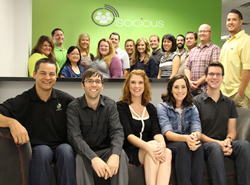 This distinction is a special honor because we try to be an employees-first company at every level.
Mesa, AZ (PRWEB) June 09, 2016
Socious, a leading provider of membership management and online community software, was named one of the Top Companies to Work for in Arizona by The Arizona Republic, the state's largest newspaper.
The 2016 azcentral.com Top Companies to Work for in Arizona distinction was awarded based on the results of a 78-question internal employee engagement and satisfaction survey.
The statewide program highlighted Socious's culture in a June 7, 2016 azcentral.com article, "Staying loose and tension-free is key at Socious, where employees enjoy massages and the services of a monthly in-office chiropractor visit. Catered company lunches and free soda and snacks are part of the package. One half-day Friday each month gives them a chance to get a head start on the weekend or happy hour."
The newspaper also pointed out Socious's tuition reimbursement for grades of B or better on approved courses.
"This distinction is a special honor because we try to be an employees-first company at every level. It is our employees that make this company stand out to our industries and our customers. And it is our employees that put Socious on this list of top companies to work for in Arizona," said Paul Schneider, CEO and co-founder of Socious.
Socious, which recently unveiled its MemberCloud platform, provides membership management and community software to some of the world's top associations, companies, and technology user groups. Organizations leverage Socious's software and professional services to manage relationships with over 1.6 million customers. For the past 6 years, Socious averaged 24% revenue growth per year.
Schneider continued, "We've entered a very exciting time at Socious. We forecast growth in almost every area of the company in the coming year – from community management and event planning to product development and support."
Socious recently doubled the size of its headquarters office in Mesa, AZ and is currently hiring for several positions in the sales, support, and community management departments.
Follow Socious on Facebook, LinkedIn, or Twitter to learn about open positions. Career opportunities at Socious are listed at socious.com/jobs.
About Socious
Founded in 2002, Socious (socious.com) offers software and services to help associations and user communities take a members-first approach to growing and engaging their membership. Socious's MemberCloud platform manages over 1.5 million members for many of the world's top associations and companies.
Socious's cloud-based association management and community software includes membership management, private social networking, customer communication tools, discussion forums, and collaboration tools to help organizations increase sales, retention, and member engagement.
Socious provides a full range of professional services to help organizations manage their membership, grow their community, and plan events.
###