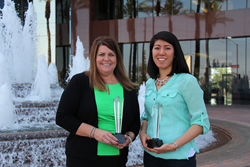 "Winning Planner of the Year a second time shows just how exceptional Cathy is," said Scott Balthazor.
Mesa, AZ (PRWEB) June 21, 2016
Members of Socious's event services team, Cathy Clifton and Erica Allen, were honored with awards from the Arizona Sunbelt Chapter of Meeting Professionals International (AZMPI) at their annual gala in early June.
Cathy Clifton, Socious's Senior Director of Global Meetings and Events was awarded Planner of the Year, which recognizes an active AZMPI member who has demonstrated leadership, made significant contributions, and delivers exceptional meetings.
Cathy was presented with the award for the second time in her career, being honored first in 1997. She is the first meeting professional in AZMPI history to win the award twice.
"Winning Planner of the Year a second time shows just how exceptional Cathy is," said Scott Balthazor, Chief Customer Officer at Socious. Whether she's planning small events or large conferences for thousands of people, her work always delivers outstanding value to both event hosts and attendees."
With over 20 years of experience in the event industry, Cathy is an active MPI member and past president of MPI's Arizona Chapter. Most recently, she served on the panel for AZMPI's May meeting, representing the meeting planner perspective.
Erica Allen, a Socious Event Manager who recently earned her Certified Meeting Planner designation, was also honored at AZMPI's annual gala. She was presented with the Rising Star award, which recognizes a new MPI member who has shown strong commitment and made extraordinary contributions to the association and the entire meetings industry.
The Rising Star is Erica's second honor from AZMPI this year. In February, she was named AZMPI's Member of the Month for her work as co-chair of an annual chapter event.
"We're extremely proud of Erica and all of her accomplishments. She's consistently proven to be an organized, thoughtful and innovative leader who's put on remarkable events all around the world," Scott Balthazor said.
At Socious, both Erica and Cathy work primarily with the Higher Education User Group (HEUG). The HEUG is a Socious client with over 30,000 members, and has numerous national and international events throughout the year. They provide meeting planning services ranging from contract negotiations to speaker management and onsite registration support.
Erica and Cathy travel in the US and internationally to support the HEUG's events. They contribute to MPI in their free time.
Meeting Professionals International's mission is to provide members, chapters, and the global meeting and event community with continuing professional education, networking opportunities, and promote growth in the industry. MPI's Arizona Sunbelt Chapter was established in 1979, and promotes excellence in the meeting industry through professional development, certification, and business growth opportunities.
About Socious
Founded in 2002, Socious (socious.com) offers software and services to help associations and user communities take a members-first approach to growing and engaging their membership. Socious's MemberCloud platform manages over 1.5 million members for many of the world's top associations and companies.
Socious's cloud-based association management and community software includes membership management, private social networking, customer communication tools, discussion forums, and collaboration tools to help organizations increase sales, retention, and member engagement.
Socious provides a full range of professional services to help organizations manage their membership, grow their community, and plan events.
###