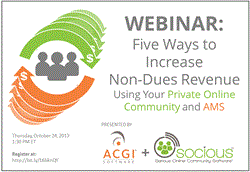 Associations and membership organizations have an opportunity to generate significant non-dues revenue. - Joshua Paul
Mesa, AZ (PRWEB) October 22, 2013
Socious, a leading provider of online community software for membership organizations and ACGI Software®, the trusted leader in association management software (AMS), today announced they will co-host a webinar for association management professionals on generating non-dues revenue using private online communities.
Scheduled for 1:30 PM ET, Thursday, October 24, registration for the webinar "Five Ways to Increase Non-Dues Revenue Using Your Private Online Community and AMS", is free.
Joshua Paul, senior director of strategy at Socious, will be the featured speaker for the webinar, which will be moderated by Arj Devadas, ACGI Software's vice president of sales and marketing.
During the one-hour session, attendees will gain insight into ways Socious customers have been successfully growing non-dues revenue through their online communities (aka, private social networks).
"With the right online community platform and strategy, membership organizations have an opportunity to generate significant non-dues revenue," said Joshua Paul.
In addition to taking questions from attendees, topics covered will include:

Ways online communities drive revenue
Why member/customer engagement is a vital first step to growing revenues
How to test, measure, and optimize your community for non-dues revenue generation
What works – lessons learned from Socious
Interested association executives can learn more and register for the webinar on the ACGI Software website.
About Socious
Founded in 2002, Socious (http://www.socious.com) offers the industry's most complete member engagement platform to large and mid-sized associations, user groups, and companies. Socious online community software brings together private social networking, content management, forums, listservs, advocacy tracking, and a full mobile platform to help organizations support their specific mission online.
About ACGI Software:
ACGI Software, Inc., founded in 1996, develops and delivers cloud-based association management software (AMS) and best-practice services. The company's Association Anywhere AMS integrates with an association's Web, mobile and business applications, automating administrative and financial operations, enhancing the member experience and lowering operating costs. Association Anywhere AMS is chosen by leading associations and association management companies. Learn more about ACGI by visiting: http://www.acgisoftware.com.