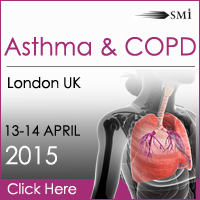 " I always look forward to hearing what academic clinicians are thinking about - they are closest to the patients and generate key insights that help those of us in drug development think differently about how to approach disease" - Genentech
London, UK (PRWEB UK) 17 March 2015
SMi's Asthma & COPD conference will be returning for its 11th edition on 13th & 14th April 2015 in Central London. The industry leading event which has been at the forefront of respiratory conferences for over a decade, has once again attracted a global audience of market leaders and scientific pioneers to discuss the latest advances in therapeutics and care.
In the run up to the show, SMi Group spoke to some key speakers including Dr Joseph Arron, Associate Director in Biomarker Discovery from Genentech, and Janssen's Senior Director in Immunology and Pulmonary Disease, Dr Philip E Silkoff.
Joseph Arron leads a laboratory-based biomarker discovery group at Genentech, which conducts translational research and biomarker discovery in inflammatory, fibrotic, infectious, and neurodegenerative indications.
"Our approach is to try to understand the heterogeneity of complex human disorders on molecular, pathological, and clinical levels, and to discover biomarkers that help us link therapeutic targets and clinical outcomes in interventional studies. If we are successful in defining subsets of patients that benefit from a new targeted therapy, then we can also define the residual unmet medical need in that indication which feeds back into efforts to discover new therapeutic targets."
When asked how efforts in this direction could contribute to the development of asthma treatment, Dr Aaron said:
"Biomarker-guided patient selection strategies have already contributed to positive outcomes in clinical trials for new candidate therapies for asthma. As I will discuss at the conference, recent successes with antibodies targeting interleukin (IL-)5, IL-13 and related type 2 inflammatory pathways have demonstrated the value of using predictive biomarkers to select patients most likely to benefit…We need to do more focused mechanistic studies in patients with interventions to better understand how molecular targets translate to clinical outcomes. Even if we know what the cellular effects of a therapeutic target are, it's hard to connect the dots all the way to outcomes like spirometry and patient-reported symptom scores."
Dr Philip E Silkoff, an expert in immunology pulmonary disease, will be providing delegates with an exclusive insight into the ADEPT study in a presentation entitled: Airways disease endotyping for personalised therapeutics in asthma & COPD. The presentation will analyse results from the trial and discuss current and future therapeutic targets. When speaking about the ADEPT study, Dr Silkoff commented:
"In order to facilitate more successful drug discovery, a more detailed understanding of the biological pathways driving disease to enable a personalized approach. The Airways Disease Endotyping for Personalized Therapies (ADEPT) has obtained biomarkers from airways, blood and exhaled breath in asthma and COPD as well as healthy volunteers to develop a deeper understanding of the diverse biology in these syndromes.. Identification of pathways may help to identify new targets as well as codiagnostic biomarkers that can help select patients for each target."
Further information and a full speaker line-up is available at http://www.asthma-copd.co.uk
Both interviews can be read in the downloads tab on the event website.
Asthma & COPD 2015
13th and 14th April
Holiday Inn Regents Park, London UK
http://www.asthma-copd.co.uk
---END---
About SMi Group
Established since 1993, the SMi Group is a global event-production company that specializes in Business-to-Business Conferences, Workshops, Masterclasses and online Communities. We create and deliver events in the Defence, Security, Energy, Utilities, Finance and Pharmaceutical industries. We pride ourselves on having access to the world's most forward thinking opinion leaders and visionaries, allowing us to bring our communities together to Learn, Engage, Share and Network. More information can be found at http://www.smi-online.co.uk