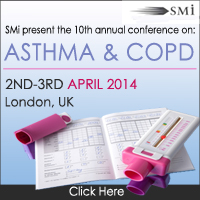 "Participants to the 10th Asthma and COPD conference will gain a detailed understanding of the latest developments..."Nicolas Touchet, Managing Director from Therapeutic Challenges
London, UK (PRWEB UK) 12 March 2014
Industry thought leaders will gather together in just over three weeks to discuss the latest ground-breaking advances in the respiratory drug market and evaluate regulatory requirements to develop inhaled products and enhance clinical trial design.
The two day event features newly added presentations including an industry led keynote from 3M and a discussion panel addressing clinical trial design and market access. The updated brochure is available to download online at http://www.asthma-copd.co.uk. For further insights, visit the download tab to read an exclusive interview with speaker, Christine Ward, Principle Scientist, Translational Medicine-RIA from Medlmmune.
Heavy in continuing education and networking, the conference aims to provide a platform for those who study and practice in the field. A snap shot of confirmed attendees include:

3M Health Care
Argenta Discovery
AstraZeneca
AstraZeneca R&D Mölndal
British Lung Foundation
Carclo Technical Plastics Ltd
Chiesi Farmaceutici SpA
Early Clinical Development
F. Hoffmann-La Roche
Fidelta
Hvidovre Hospital University of Copenhagen
Imperial College Of Science And Medicine
Lisa Tan Consulting
Medicines Assessment
MedImmune
MHRA
MYKHAS CONSULTING LIMITED,
National Heart and Lung Institute
Imperial College London
National Jewish Health South Denver
Newcastle University
Novartis Horsham Research Centre
Orion Pharma
Private Practice
Sandoz International
Sanofi
SkyePharma
Synairgen
Teva UK
Therachallenges
Theravance
University College London
University Of Southampton School Of Medicine
Vectura
Verona pharma.
Zentiva Group
With the event taking place in just 3 weeks' time, places are now limited. For those who are interested you can book online at http://www.asthma-copd.co.uk
SMi's Asthma & COPD conference has been running now for a decade. This year's conference will aim to deliver:
Cutting-edge developments in COPD including a review of mAbs as a treatment for severe asthma and COPD, drug development, combination therapies with insights into LABA/LAMA, biomarker development for respiratory drug assessment and patient stratification.
Case study driven presentations from leading pharmaceutical and regulatory KOLS including University College London, Novartis, Astra Zeneca, Teva, National Heart & Lung Institute, British Lung Foundation, MHRA, key U-BIOPRED committee members and MedImmune.
Insights into successful market penetration
Keynote addresses into ECLIPSE observational study for COPD and the U-BIOPRED observational study for Asthma, regulatory guidance, prevention of exacerbations, drug delivery and clinical trial design.
A panel debate on day one led by the University of Newcastle, Teva and Therapeutic Challenges discussing the respiratory market place from clinical trial design to licensing and market access. Day two will include a panel debate on regulatory standards for Asthma and COPD led by the MHRA, Medicines Assessment and MedIumme
Updates into the next generation of drug delivery devices
Networking opportunities during 2 morning coffee breaks, 2 networking lunches and 2 afternoon tea sessions.
Nicolas Touchet, Managing Director from Therapeutic Challenges commented:
"Market Access and reimbursement challenges are raising the bar for novel therapies for Asthma and COPD. Alignment between Regulatory, Clinical Development and Market Access strategies is now a Key Success Factor for novel products in these indications. Participants to the 10th Asthma and COPD conference will gain a detailed understanding of the latest development in these three areas, and will be provided with ways to optimize decision making and potential risk reward tradeoffs across the overall go to market strategy."
For a conference brochure visit http://www.asthma-copd.co.uk
Asthma & COPD
2ND & 3RD April 2014
Marriott Regents Park Hotel, London UK