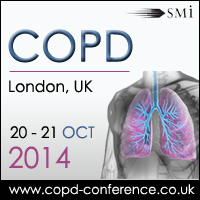 "Experts in the field will synthesize the available evidence, in order to understand the opportunities and provide 'nuggets of advice' for the challenges ahead in a timely fashion." Dr Yohannes
London, UK (PRWEB UK) 14 July 2014
Anxiety and Depression in COPD will be just one of the key highlights featured in the 6th annual COPD conference which returns to London this autumn on 20th and 21st October 2014.
Recent findings published in Respiratory Medicine have found that patients with COPD who are also depressed, have difficulty sticking to a pulmonary rehabilitation program.
The study was led by Dr Andrew Busch, Lead Researcher from The Centres for Behavioural and Preventive Medicine at The Miriam Hospital.
"Depression interferes with COPD treatment, so it may be particularly important for those with COPD and depression to receive adequate depression treatment," Busch says.* Source http://www.news-medical.net/news/20140710/Depressed-COPD-patients-have-difficulty-in-sticking-to-pulmonary-rehabilitation-program.aspx
Hear more on the implications of anxiety and depression in COPD during a keynote address at COPD 2014 by Abebaw Yohannes, Reader in Physiotherapy at Manchester Metropolitan University.
The presentation will address healthcare utilisation and the overlapping symptoms of Anxiety and Depression in COPD patients. Updates will also be provided on anxiety treatment, with a focus on psychological therapy, pulmonary rehabilitation and antidepressants drug therapy. When asked about the importance of COPD 2014, Dr Yohannes said:
"COPD is a major cause of disability and mortality worldwide. In recent years, there are some clinical advances in the management of COPD, and still challenges ahead for clinicians to provide better provision of services and reduce healthcare cost. Experts in the field will synthesize the available evidence, in order to understand the opportunities and provide 'nuggets of advice' for the challenges ahead in a timely fashion."
Other keynotes taking place over the 2 day event include presentations from the MHRA, Chiesi, Bayer, COPD Foundation, Astra Zeneca, Novartis and Teva. For further details visit http://www.copd-conference.co.uk
COPD 2014
20th & 21st October
Holiday Inn Regents Park, London UK
http://www.copd-conference.co.uk
About SMi Group:
Established since 1993, the SMi Group is a global event-production company that specializes in Business-to-Business Conferences, Workshops, Masterclasses and online Communities. We create and deliver events in the Defence, Security, Energy, Utilities, Finance and Pharmaceutical industries. We pride ourselves on having access to the worlds most forward thinking opinion leaders and visionaries, allowing us to bring our communities together to Learn, Engage, Share and Network. We hold events in over 30 major cities throughout the world including London, Paris and Singapore and to date have welcomed over 200,000 participants from 80 countries. More information can be found at http://www.smi-online.co.uk