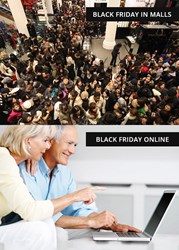 Tempe, AZ (PRWEB) November 27, 2013
The Friday after Thanksgiving is synonymous with big savings, increasingly early hours, and cram-packed stores. However, more and more people are eschewing the big box stores and malls in favor of a newer way to save - online shopping. The latest article from Astrabeds' blog, titled "A Tale of Two Shoppers: BF Online Versus In Stores" discusses the potential paths of two people, one who opts for the traditional route and one who seeks deals online.
Astrabeds' introduces the topic by describing growing consumer trends toward online retailers during the busiest shopping day of the year. One important trend seen for 2013 Thanksgiving sales is the increasing number of all types of retailers offering their deals online, some even starting days before Friday. Nearly all major retailers will be offering a majority of their door-busters over the internet, something previously only seen on the Monday after.
The blog speculates that this could be because more consumers are actively seeking online Thanksgiving weekend deals rather than contend with brick-and-mortar shops. Astrabeds illustrates why this may be in their tales of two shoppers, one who shops Thanksgiving mattress deals in stores and one who shops online.
Their first anecdote shows a shopper named Mary who is going to buy in stores. The article accounts how she begins sorting through ads weeks in advance to pick out a few options, but has trouble finding specification details and reviews on promotional beds offered. She has to leave Thanksgiving dinner to wait in line for one deal, which ends up being sold out. Then she wakes up bright and early on Friday, toughs the mall parking lot and more lines, deals with grumpy shoppers and salespeople, and then ends up settling on a mattress, exhausted with the holiday weekend already half over, and black cloud of doubt hanging over her purchase.
Shopper two, Bob, opts for browsing Thanksgiving mattress deals online this year. He compares beds online before the sales, reads reviews and researches without high-pressure salespeople, and settles on his pick, an Astrabeds natural latex mattress with good reviews. The blog illustrates Bob's easy path to savings, complete with a nice Thanksgiving spent with family, sleeping in on Friday, and shopping from the comfort of his home at his own leisure. Bob gets to enjoy his holiday weekend however he chooses, and gets to try his bed at home with a no-risk 90 trial.
Within the tales of the two holiday shoppers, Astrabeds identifies key benefits to skipping the lines on Thanksgiving weekend such as less impulse buying, more time for family and friends, better opportunity to research and compare products, and above all, not having to contend with crowds and added holiday stress.
Astrabeds, a retailer of natural latex mattresses, adjustable beds, and accessories will be offering all of their holiday weekend deals exclusively online for easy and convenient shopping. This year, starting 12 AM on 11/29, the company will be offering $200 off all latex mattresses plus complimentary pillows with code "FRI200" and 20% of adjustable bed and mattress bundles with code "BLACK20". Readers are invited to compare products, browse their buying guides and information resources, and to subscribe to their email newsletter for exclusive holiday deal notifications.
Part of e-commerce collective One Mall Group, Astrabeds is an online retailer of natural latex mattresses, adjustable beds and natural bedding. Based in Tempe, Arizona and in business since 2007, the company has earned a reputation of quality products and service, as well as a commitment to the latest technologies and competitive prices.