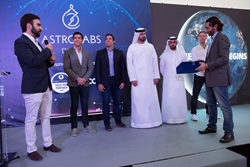 With AstroLabs Dubai, the only Google-partnered tech hub in the MENA, we are helping unlock potential for young entrepreneurs to realise tomorrow's innovations right in one of the world's most innovation-centric cities", said Ahmed Bin Sulayem, DMCC
Dubai (PRWEB) November 19, 2015
DMCC, the authority on trade, enterprise and commodities in Dubai, and entrepreneurship platform AstroLabs, have inaugurated the Middle East and North Africa's only Google-partnered tech hub.
Astrolabs Dubai will enable startups from around the world to set up in the DMCC Free Zone while gaining access to Google for Entrepreneurs' global network and resources.
AstroLabs Dubai's public launch of its new DMCC Free Zone premises attracted over 350 entrepreneurs as it introduced a purpose-built 6,500 sqft coworking space, featuring a Google mobile device lab, five meeting and video conferencing rooms, a training and events facility, and artisanal coffee boutique 59 Degrees. With floor-to-ceiling windows, the ground-level space sits parkside in Dubai's Jumeirah Lakes Towers district.
"At DMCC, the Global Free Zone of the Year, we thrive on providing an environment where startups can innovate and grow, and making it easy to set up a business quickly. With AstroLabs Dubai, the only Google-partnered tech hub in the MENA, we are helping unlock potential for young entrepreneurs to realise tomorrow's innovations right in one of the world's most innovation-centric cities," said Ahmed Bin Sulayem, Executive Chairman, DMCC.
AstroLabs' partnership with DMCC provides members fast-tracked and subsidised business licenses, enabling founders to swiftly establish local UAE residencies and company bank accounts. The DMCC Free Zone, recently hailed as the Global Free Zone of the Year by Financial Times FDI magazine, offers businesses 100 percent ownership and has integrated technology-driven platforms enabling members to register a company in Dubai and get licensed completely online.
Founded by local entrepreneurs Louis Lebbos and Muhammed Mekki, who spent the last two years training hundreds of startups across MENA, AstroLabs offers tech startups a custom coworking space, mentorship, and business licenses to set up a business in the UAE. AstroLabs members join an exclusive Google for Entrepreneurs Passport Programme, allowing them to access over twenty Google-partnered hubs across the globe, from Seoul to San Francisco.
Already hosting startups from across 15 industries from 27 countries, AstroLabs Dubai is building a community of entrepreneurs that can scale on a global level. Over 25 percent of Dubai-based members are women leading tech startups, a proportion that rivals the most diverse ecosystems globally.
With one member already acquired, an HR platform called Beneple, and many others raising funding rounds to grow and set up a business in Dubai, AstroLabs Dubai is starting to make a tangible impact on the regional startup ecosystem. In December, the space will be hosting a Google for Entrepreneurs Exchange Programme, bringing twelve top travel startups from around the world to Dubai.
"Dubai has all the right ingredients to become a leading global destination for tech startups, and we are working toward realising that goal," said AstroLabs Founding Partner Muhammed Mekki. "Going forward, Louis and I are excited to continue building communities of entrepreneurs who make things happen."
-Ends-
About the DMCC
DMCC is the authority on trade, enterprise and commodities in Dubai—home to the world's leading businesses of today, and tomorrow. The most successful markets create conditions that enable producers, traders and consumers to thrive. DMCC is committed to developing these ideal conditions and has a strong track record in commodity trade facilitation where we encourage and support business through the platforms we provide. These include our Free Zone, commodity exchanges, legal and regulatory frameworks and our real estate offering.
DMCC. Made for Trade. http://www.dmcc.ae
About AstroLabs
Entrepreneurship platform AstroLabs convenes top global startups at its Google-partnered tech hub, AstroLabs Dubai, and delivers courses on topics in digital business. AstroLabs Academy has trained over 300 startups across the Arab world, from Cairo to Riyadh. Alums of its acceleration programs have raised over 50m USD and created hundreds of tech sector jobs in the last two years. To learn more, visit astrolabs.com or follow @AstroLabsME on Twitter.
About Google for Entrepreneurs
Google for Entrepreneurs provides financial support and the best of Google's resources to dozens of coworking spaces and community programs across 125 countries. Google for Entrepreneurs also creates Campuses: physical hubs where entrepreneurs can learn, connect, and build companies that will change the world. To learn more about Google for Entrepreneurs, visit google.com/entrepreneurs or follow on G+ (+GoogleForEntrepreneurs) and Twitter (@GoogleForEntrep).