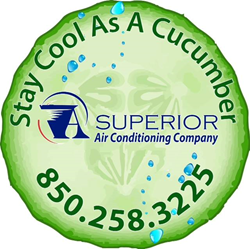 I'm blessed to be part of this wonderful community, and I'm proud to support our Veterans and First Responders.
Panama City Beach, FL (PRWEB) October 30, 2016
A Superior Air Conditioning Company in Panama City Beach introduces the Santa's Helper Sweepstakes, where up to $1,500 will be given away on December 15, 2016, the offer is available to the general public with no purchase necessary. The sweepstakes is tied to the Cucumber Club, which is their Preventative Maintenance Plan. A significant 25% discount is tied to the purchase of the PM plan and A Superior is giving up to $25.00 per referral once they belong to the club.
Said Thorpe, "We want to help our community in every way we can. The holiday season can be tight for money. The problem we find is that most people wait for their AC or heat to break down, which can be costly to repair. By offering a 25% discount on our Bi-annual maintenance program, it becomes more affordable to do the maintenance folks need. So when someone purchases a plan, it also automatically enrolls them in the sweepstakes – they also become eligible for $25.00 referral fee for anyone they sign up."
A Superior Air Conditioning Company is known for giving back to the community. In 2015, "Vets helping Vets" was launched where a new air conditioning system is given away every quarter. A second program was born, for First Responders in 2016 to include Police, Fire and EMT's. The thinking was Vets enter this field combined with the trend that First Responders were last on the list of appreciated professionals. A Superior AC was determined to change that trend.
The idea of a Veteran owned company giving back to Vets has resonated in the communities that A Superior serves, and has led to other local businesses following suit. Thorpe wanted to be a leader in the charge of community based programs that build strong relationships where everyone wins.
A Superior Air Conditioning Company is located at 20512 Panama City Beach Pkwy, Panama City, Florida 32413, servicing the Gulf Coast from Fort Walton to Mexico Beach and surrounding areas. The mission is to support, encourage, lift up their community and make them a better place to live. The vision is to grow, expand and develop the team so that they can serve all communities in Northwest Florida. As the weather changes, make sure you contact the team at 850-258-3225 to Stay Cool as a Cucumber!