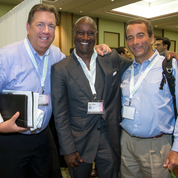 We are pleased to be involved in the birth of a new asset class for average investors...
NEW YORK, NY (PRWEB) December 10, 2013
Asurvest, Inc., a developer of risk management products, and Bendigo Partners, LLC, a private investment firm, today announced a strategic alliance to develop and promote hedging products designed for equity crowdfunding. Bendigo will become an investor in Asurvest, Inc. as part of the company's current Series Seed funding round. Asurvest will leverage its relationship with Bendigo to roll out the first risk management products for U.S. and international funding portals.
Asurvest is focused on democratizing Wall Street finance and the limited availability of principal protection, a feature of more institutionalized financial markets. Asurvest risk management products will allow investors to purchase portfolio protection for the emerging asset class of equity crowdfunding investments. With the regulatory approval of the long-awaited "Title III" or "crowdfunding" component to the JOBS Act expected in 2014, non-accredited individuals will soon be able to participate and invest online in private companies, in small increments. For the past year, Bendigo, through CrowdClear, a division of Bendigo's wholly-owned subsidiary Bendigo Securities, has been providing technology, services and expertise to funding portals to facilitate financial transactions between investors and issuers using existing securities exemptions and regulations.
As the former C-suite team of E*TRADE, the founders of Bendigo have been managing the complexities of public and private securities transactions for more than three decades. By leveraging Bendigo's deep industry expertise, Asurvest seeks to expand its range of risk management services for investors, and offer Bendigo's services to existing and prospective clients.
"We are pleased to be involved in the birth of a new asset class for average investors," said Jarrett Lilien, managing partner of Bendigo Partners. "The existence of hedging alternatives designed specifically for this type of equity investment will have a positive impact on the growth of equity crowd funding."
"In the past few years, global crowdfunding, dominated by rewards-based offerings, has grown from $32 million to an estimated $5.1 billion market by the end of this year," said Luke Cooper, founder and CEO of Asurvest. "Bendigo is the right partner to help us deliver our risk management solutions to this burgeoning global industry."
About Asurvest, Inc.
Asurvest (http://www.asurvest.com) is a Baltimore based technology-enabled financial services company providing investors and crowdfunding platforms with short-term risk products and services that help them limit their losses. As the first-mover in the space, Asurvest combines over 125 years of risk management, legal, and technology experience and a best-in-class technology platform.
For more information, click here.
About Bendigo Partners LLC
Bendigo Partners ( http://www.bendigopartners.com ), a private investment firm, focuses on opportunities in global, technology-driven financial services. Bendigo supports product expansion, global growth initiatives, acquisitions, technology and operational enhancements with both capital and expertise. The company participates in all stages of investing and brings operational expertise to technology, operations, marketing, sales, service, compliance, audit and finance functional areas. The Bendigo team is comprised of highly experienced financial services executives who have built and run businesses all over the world. Partners based in the United States, the United Kingdom and Japan provide hands-on management expertise to financial services companies, primarily brokers, banks, and private equity firms.